Indonesia has imposed capacity limits on domestic flights as part of a raft of measures that includes restrictions on children travelling.
The Directorate-General of Civil Aviation states in a 27 July notice that effective immediately, capacity on all scheduled domestic flights will be capped at 70%. This is to allow for social distancing on board aircraft, it adds.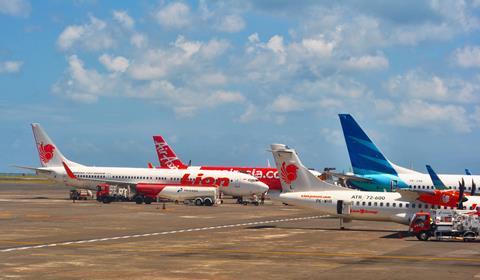 The latest measures come as Indonesia extended restrictions across the country until early August.
Existing measures for travellers from Bali and Java, where capital city Jakarta is located, have been extended to other islands and provinces, including Sumatra, Sulawesi and Kalimantan.
This means that travellers from these areas will need to present a negative coronavirus test result, and have received at least one dose of the vaccine. Those not from the areas with tightened restrictions will need to present a negative coronavirus test.
As with its previous announcement, the agency did not impose an outright ban on flights, but urged travellers to defer non-essential travel.
"Meanwhile, we will restrict travel for those under the age of 12," the agency adds, but did not elaborate.
The tightened restrictions, known as the PPKM (community-level public activity restrictions enforcement), were first imposed in early July, as daily infections soared to record highs.
Since then, the numbers have dropped slightly, but still remain dangerously high. As of 27 July, the country reported more than 47,000 new infections.
The restrictions have forced at least one carrier — Indonesia AirAsia — to temporarily suspend all its flights. Other Indonesian carriers have drastically cut capacity on their domestic networks, as the measures kicked in.