Pratt & Whitney has signed a memorandum of understanding with Air BP on the use of 100% sustainable aviation fuel (SAF) for P&W's engine testing and research.
Under the agreement, both parties will work together to explore a "viable supply" of full-SAF for engine and propulsion tests through 2024.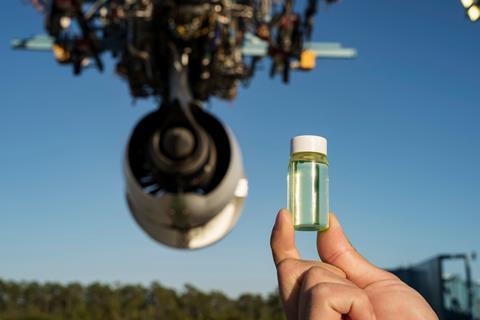 "In addition, the two companies aim to collaborate on researching the performance of 100 percent SAF in propulsion systems to provide insights and data into fuel performance and emissions reductions," says P&W.
Graham Webb, the enginemaker's sustainability chief, adds: "Neat SAF from a major integrated energy company that is highly focused on SAF initiatives enables the evaluation, testing and validation needed to ensure that our engines are fully capable of operating with 100 percent SAF."
The announcement comes as P&W in mid-March completed its first on-ground test using 100% SAF on its GTF Advantage-configured PW1100G engines.
For that test, P&W used 100% vegetable oil-based HEFA-SPK (hydroprocessed esters and fatty acids synthetic paraffinic kerosine) fuel acquired from USA-based World Energy It is also working with the Commercial Aviation Alternative Fuels Initiative and ASTM International to validating its engines to operate with 100% SAF.