The Federal Aviation Administration has issued a special airworthiness certificate to Archer Aviation, allowing it to begin flight testing its electric vertical take-off and landing (eVTOL) aircraft, called Maker.
"Having cleared this final threshold to begin off-ground operations, Archer remains on track to conduct its first hover flight test later this year," the Palo Alto, California-based company says on 2 December.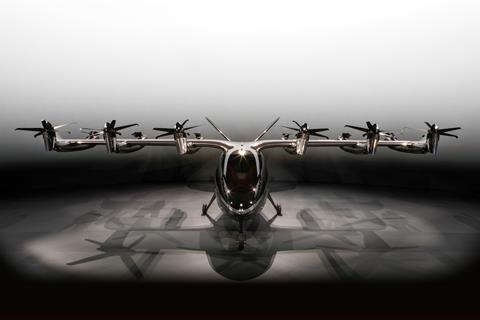 Archer introduced Maker, a two-seat demonstrator, in June. The company says the aircraft, which has 12 wing-mounted rotors and 52nm (96km) of range, can cruise at up to 130kt (241km/h).
It aims to have a four-seat aircraft certificated for passenger operations by 2024.
"Earning our special airworthiness certificate from the FAA marks a significant moment for our company as we take another leap ahead toward our goal of bringing eVTOL travel to the world," the company's co-chief executive officer Brett Adcock says.
"We've demonstrated the quality and viability of our eVTOL aircraft while maintaining our commitment to safety above all else, and we now turn our focus toward the first flight tests of Maker," adds co-chief executive Adam Goldstein.
Archer says that the FAA's inspection took place at the company's flight test facility in California.
"Following its inspection, the FAA issued Archer its special airworthiness certificate, signaling Maker is safe to leave the ground and Archer may begin hover test flights with the aircraft," the company adds.
In September, Archer said it had received the FAA's approval of a so-called "G-1 issue paper" a first stage to certification of the aircraft. G-1 issue papers specify airworthiness and environmental standards that an aircraft must meet in order to be certificated, according to FAA documents.
Last February, United Airlines said it would take 200 of the in-development aircraft in a deal that is worth up to $1 billion.