NASA now expects its delayed X-59 Quiet Supersonic Technology (Quesst) demonstrator aircraft will make first flight in 2023 following completion of still-outstanding system evaluations.
The agency and partner Lockheed Martin confirm the 2023 first-flight target. The programme is already significantly delayed, with NASA previously having aimed to have X-59 get airborne in autumn 2021.
Meanwhile, NASA faces criticism about the X-59 programme, which the agency has described as developing technology that could herald the resumption of supersonic civilian air travel. One advocacy group is calling on NASA to review the programme on grounds that it conflicts with the US government's goal of reducing aviation's carbon footprint.
NASA tells FlightGlobal it is now "doing its due diligence, as good stewards of the environment, to assess impacts during the entire Quesst mission".
"The agency is conducting an analysis to identify environmental effects from the research flights of the X-59 prior to the community overflight campaign," it adds.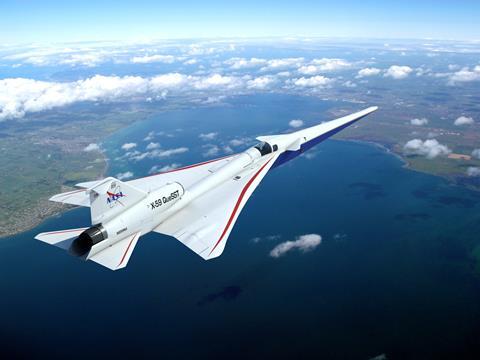 But first flight is still in NASA's sights.
"We anticipate that the X-59's rollout and first flight will occur this year," NASA says. "We expect to have a more specific date after NASA and Lockheed Martin complete a series of system checkouts and ground tests in the coming months.
"As is the case in any undertaking to transform aviation, the development of an all new, full-scale X-plane presents challenges we need to overcome," NASA adds. "Our focus now is ensuring that the X-59 will be able to safely and reliably complete the Quesst mission, including rigorous testing and preparation before kicking off the first flight-test series and subsequent community overflight testing."
Lockheed confirms it is "on track for" first flight in 2023, citing supply chain and labour issues as holding up the complex development effort.
"It is a one of a kind X-plane," Lockheed tells FlightGlobal. "We are expecting 2023 to be the year."
X-59 is central to a NASA's Low-Boom Flight Demonstration Mission, through which the agency is working to perfect and test designs that can soften a supersonic aircraft's sonic boom. NASA has said the work "could make supersonic flight over land possible".
US regulators have banned overland civilian supersonic flight for decades due to noise impacts.
As part of the Low-Boom project, NASA in 2018 awarded Lockheed a $247.5 million contract to design, develop, manufacture and flight test X-59. The aircraft's features – including its long, slender fuselage and unique structural elements – will result in a sonic boom of 75 perceived dB on the ground, which is comparable to distant thunder or a car door shutting, NASA has said.
Concorde's boom came in at 105 perceived dB.
Lockheed had been assembling the single-pilot X-59, powered by one 22,000lb-thrust (98kN) GE Aviation F414-GE-100, at its Skunk Works site in Palmdale, California. The jet is to cruise at 55,000ft and fly at speeds to Mach 1.4.
Ultimately, NASA intends to use X-59 to perform "community flights" – those will involve flying the aircraft over the USA while measuring the loudness of its sonic boom and the boom's perceptibility to people on the ground. NASA intends to provide X-59 noise data to US regulators.
NASA launched the X-59 project as several start ups were involved in early stages of developing supersonic civilian aircraft. One player, Aerion, which had been developing a supersonic business jet, folded in 2021.
Another, Boom Supersonic, continues developing a supersonic airliner but has been unable to secure a major aerospace company as an engine supplier. In December, Boom said it will partner with three smaller companies – Florida Turbine Technologies, GE Additive and StandardAero – to develop a powerplant.
Major engine makers have expressed disinterest in supersonic, saying instead they are focused on improving fuel efficiency. Critics of the supersonic development projects have noted that such aircraft will be much less efficient than subsonic aircraft.
NASA is also facing pushback.
In 12 January letter, nonprofit group Public Employees for Environmental Responsibility urged NASA administrator Bill Nelson to review the X-59 programme in light of "climate implications".
"Supersonic aircraft consume many times more fuel and produce many times the amount of pollution as current commercial flights," says the letter.
Spending tax dollars to "enable higher-polluting aircraft" is "difficult to reconcile" with NASA broader goal of reducing emissions, it adds.
In response, NASA tells FlightGlobal it "recognises that there are multiple challenges to making commercial supersonic flight a reality, including our long-term vision of addressing challenges such as emissions and fuel burn".
However, the agency's focus at this time is specifically on flights of the X-59 in support of the Quesst mission," it adds.
A 2022 report from The International Council on Clean Transportation found that supersonic passenger aircraft would use 7-9 times more fuel per passenger, per kilometre, than subsonic jets burning fossil fuel.