Aeroflot Group has entered a financial leasing agreement with Aviakapital-Servis covering 52 aircraft, the initial airframes from a deal for over 300 jets unveiled a year ago.
The agreement centres on the acquisition of six Yakovlev MC-21-310s to Aeroflot, as well as 12 MC-21-310s and 34 SJ-100s to Rossiya.
Aviakapital-Servis has had a long-standing order for MC-21s, having signed for up to 85 in 2011.
Aeroflot Group had intended to lease 50 of the aircraft, with original plans involving at least half of them being the MC-21-300 variant – which is fitted with Pratt & Whitney PW1400G engines.
But international sanctions over the Ukrainian conflict have effectively left only the Russian-powered MC-21-310 available. The -310 has Aviadvigatel PD-14 engines.
Deliveries of the MC-21s, which were due to arrive from 2020, have been delayed by the pandemic as well as the geopolitical upheaval.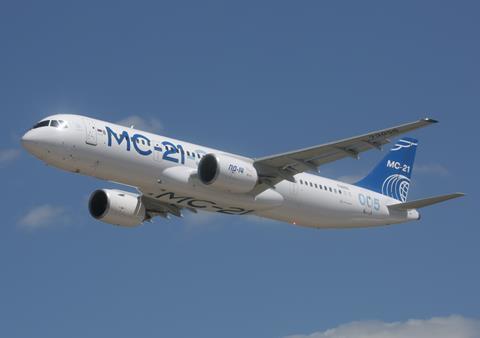 Prior to the pandemic Aeroflot Group had been undertaking a restructuring through which Rossiya would become the focus for Russian-built aircraft operations, while Aeroflot would use foreign-supplied types. Aeroflot transferred large numbers of Superjet 100s to Rossiya as part of this strategy.
But during an economic forum in Vladivostok last year, Aeroflot Group entered an agreement setting out plans to purchase 339 Russian-built aircraft, including 210 MC-21-310s, 89 SJ-100s and 40 Tupolev Tu-214s.
The new leasing agreement was disclosed at this year's Vladivostok event.
"These contracts are the first in the framework of the [339-aircraft deal] in the interests of Aeroflot Group," says state technology firm Rostec's chief, Sergei Chemezov.
Aeroflot chief Sergei Aleksandrovsky says the leasing pact with Aviakapital-Servis is a "logical continuation" of its partnership with aerospace company United Aircraft.
"The document we signed [at the forum] brings Aeroflot Group closer to a long-awaited event – the entry into our fleet of modern [import-substituted] aircraft
"These newest Russian airliners will allow Aeroflot to successfully implement an updated strategy and continue its growth and development."
Aeroflot Group states that the Aviakapital-Servis lease is being implemented under a government-approved programme for domestic aircraft acquisition, and the 52 jets are scheduled for delivery over the period to 2025.