Amsterdam Schiphol airport has extended passenger capacity restrictions through to October, as it seeks to overcome the staffing challenges that have disrupted operations at the KLM hub.
The extension of the cap comes as the airport acknowledges "virtually all parties at the airport are [still] understaffed" – a situation that has caused long queues, delays, flight cancellations and baggage restrictions so far this summer.
For September, Schiphol said on 2 August, the cap will be 67,500 passenger departures per day, rising to 69,500 in October. In June, it set a cap of 67,500 for July, rising to 72,500 in August.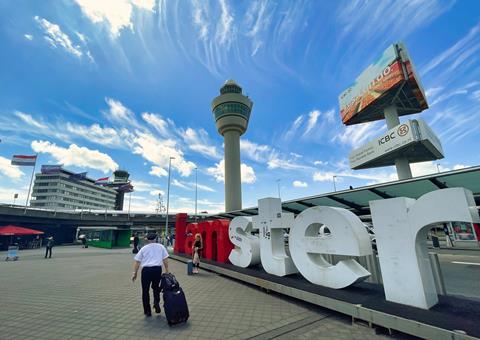 Schiphol notes that based on current projections, "in and around the two weeks of the autumn holidays, the expectation is that there will be an average of 3,500 too many local departing passengers", meaning existing passenger bookings may be affected. The independent slot co-ordinator "will consult with all airlines to ensure that the number of passengers is appropriate in relation to the security capacity", the airport states.
The fall in the cap going into September reflects the seasonal effect that comes with the weather turning colder, Schiphol explains. Travellers tend to "use more bins at security control after the summer because they wear more clothes", it says, meaning it takes longer to perform required security checks.
While the airport says the number of security personnel available to it continues to increase, it does not comment on when it expects the operational disruption to be overcome. In part, that is because airports are not directly responsible for all of the points in the travel chain that are experiencing staffing shortages. Icelandair, for example, said in July that it was flying two baggage handlers – which tend to be the responsibility of airlines – on its Schiphol services in an attempt to overcome the lack of workers at the Dutch hub.
Air France-KLM chief executive Ben Smith said on 29 July that he sees some of the operational disruption in airline markets as a years-long issue, amid a lack of near-term fixes.