All Nippon Airways (ANA) has firmed its agreement with shipping and logistics group NYK to acquire Boeing 747 freighter operator Nippon Cargo Airlines (NCA).
The share transfer is due to take place at the start of October following approval of NCA's shareholders and will see the cargo carrier become a wholly-owned subsidiary of ANA. The two companies signed a preliminary deal on the transaction in March this year.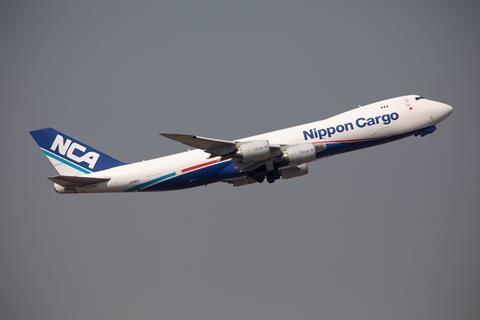 "ANA, in order to dramatically enhance its international air cargo network and products and services based in Japan and also with the aim of contributing to the development of global economic activities both in Japan and abroad, expressed its strong desire to add NCA to its business portfolio and integrate and reorganise NCA within the cargo business of the ANA group in the future," ANA says, in a state exchange announcement.
NYK says the cargo operator will be better positioned to grow further within an airline group, which would also in a better position to support NCA with emissions reduction requirements.
"The continual introduction of new aircraft to expand the operation and maintenance system, as well as the continual training of personnel engaged in operation and maintenance required considerable expenditures," NYK says. "In the highly volatile business environment of airfreight transportation, NCA has been facing challenges in expanding its business scale at a level that is commensurate with such costs."
NCA currently operates a fleet of eight Boeing 747-8 freighters and owns five 747-400 freighters that are operated by ASL and Atlas Air.
In the first nine months of the current business year, NYK reported that its air cargo business had made a profit of Y56.4 bilion ($397 million) – flat on a year earlier – and revenues increased 25.9% to Y178.3 billion.
However, NCA's profitability has been patchy over the years, having reported losses in fiscal years 2012, 2013, 2018 and 2019.
NYK said it had been involved in NCA since it was established in 1978 and acquired all shares in the freighter operator in 2010 with the aim of becoming "a comprehensive logistics company offering ocean, land, and air transportation".
At the same time the update on the sale of NCA was announced, a series of management changes were also unveiled. Hitoshi Oshika, who is currently president and chief executive, will become chairman of the board. Hiroyuki Homma has been promoted to president and chief executive from his current role as senior managing director.