Asia-Pacific carriers in September reported an upswing in air cargo demand for the first time in 2023 – following more than a year of declines – as passenger demand continues to hold strong.
Data from the Association of Asia Pacific Airlines (AAPA) for September shows freight-tonne kilometres increasing 3.2% year on year. It is the first uptick since March 2022, as cargo demand continued to drop amid a challenging economic environment.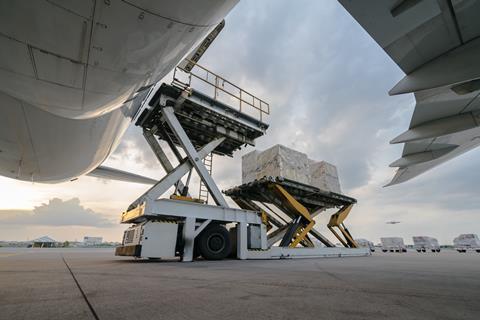 "While the increase was in part attributable to comparisons with depressed levels recorded last year, the start of the high-demand season leading to the year-end festive period also contributed to growth," states the AAPA.
However, association director general Subhas Menon warns that while "it is a welcome relief" to see demand "on a positive footing", a drop in export orders globally "still signals challenging market conditions" in the near term.
International cargo capacity rose 8.8% year on year, while load factor fell 3.3 percentage points.
On the passenger side, AAPA data shows a two-fold increase in total passenger numbers year on year, to more than 23.7 million. The figure is around 79% of pre-pandemic levels, the association adds.
Traffic rose 91% year on year, outpacing an 86% rise in capacity. The AAPA attributes the "solid expansion" in international passenger markets to a rebound in tourist arrivals, especially from Mainland China.
Menon adds: "The outlook for the region's travel markets is broadly positive going into the final quarter of this year, with continued expansion in air passenger demand supported by resilient growth in the Asian economies."
While growth is still likely in 2024, Menon reiterates a previously-made observation of "increasing headwinds" led by higher fuel costs.