"Without question, the order book is exactly where we want it to be for the next three years," says Andy Cronin, chief executive of global lessor Avolon, announcing the signing of a memorandum of understanding to order 20 Airbus A330neos at Paris air show on 21 June.
After a busy show, where Avolon has also ordered 40 Boeing Max 8s, signed a sale-and-leaseback deal for 10 Embraer E195-E2s, and announced the lease of three A330neos to Oman's SalamAir, Cronin says that is it for business at Paris.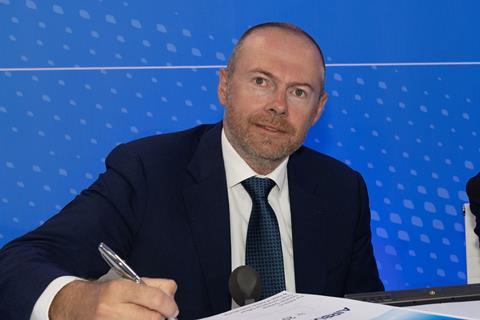 The lessor's spate of deals is not yet included in its backlog of 252 aircraft, with 531 units in its current delivered and owned fleet. "So, we're feeling very good about our acquisition channels," says Cronin, with its "carefully timed" delivery flow leading him to believe there will be no "near-term, large-scale" changes in its orderbook for two to three years.
Commenting on the delivery problems encountered by the OEMs, Avolon president Paul Geaney explains that the lessor has experienced some delays on its backlog. "It has been a frustration for both of us. And there are various reasons for that. What is key is having a strong relationship with the manufacturers and strong communications, and that was what we have," he says.
However, "I do think the situation is improving", says Geaney, adding that Avolon is well placed to invest in sale-and-leaseback deals with airlines, such as the Porter one. This ability to add to its speculative order volumes has been "really important" to alleviate the delivery issues, he says.
For Avolon it is "strategic flexibility that others don't have" because of its investment-grade status, says Geaney.
The A330neo MoU signed at Paris was completed overnight, with the Airbus and Avolon teams "burning some midnight oil to make this possible," says Christian Scherer, Airbus chief commercial officer.
The newly ordered A330neos will be delivered from 2026 to 2029, and Avolon sees "evidence of strong demand" for the type. It has "great insight into the A330neo market" having placed all its existing 55 A330neo orders, says Cronin.
"That gives us a great footprint for reading how the market is shaping up over the next two to three years," says Cronin.
Scherer is pleased to see the widebody market strengthening, as evidenced at Paris, but "it would be premature to talk about any more adjustments on production [rates]," he says. "But if this demand continues, we might have to ask ourselves the question. But it's not a question for today."
A side note in the Avolon announcement is the conversion of 50 of its unplaced A320neo orders to A321neos for delivery between now and the end of the decade.
However, Cronin does not feel the need to extend its narrowbody orders into the 2030s, which airlines such as IndiGo have done this week to secure delivery slots years in the future.
"We're confident in our orderbook as it stands now," says Cronin. "We understand why some airlines will want to place a portion of their orders now [for that timeframe]."
However, Avolon has other growth channels such as sale-and-leasebacks, portfolio acquisitions, or mergers and acquisitions, so "we don't have any concerns about that 2030 to 2035 period", he states.
With such strong demand for narrowbodies and widebodies, and delivery horizons stretching further out, Cronin recognises that the OEMs are tightening the supply of speculative orders for lessors. "In general, I think they are being more disciplined about where they sell aircraft and where they allocate aircraft."