US President Joe Biden on 1 February met with a group of Republican senators at the White House to discuss their proposed $618 billion coronavirus relief package, while his administration continues to call for a $1.9 trillion stimulus to help the US economy weather the pandemic.
Nine of the Republican senators supporting a relief package met with Biden in the Oval Office while the tenth joined virtually. The Republican package would increase funds for the production and distribution of vaccines, extended federal unemployment benefits, nutrition assistance to help struggling families, and additional assistance for small businesses. Senators Susan Collins, Mitt Romney and others shared the details of their plan in a same-day joint statement.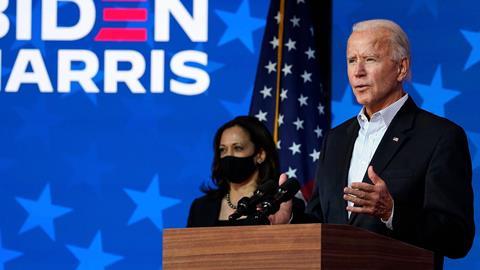 The meeting with Biden did not yield a compromise but Collins after the meeting described the exchange as "a very good exchange of views" to start a dialogue on relief legislation.
"All of us are concerned about struggling families, teetering small businesses and overwhelmed health care system, getting vaccines out and into people's arms and strengthening our economy and addressing the public health crisis that we face," Collins said to reporters after the meeting.
Republicans during the Trump administration resisted many proposals by Democrats to increase stimulus during the pandemic crisis, but Democrats now control the presidency and a majority in both the House and Senate. During a press briefing with reporters, White House spokeswoman Jen Psaki said the meeting with top Republicans was "not a forum for the president to make or accept an offer", reasserting Biden's view that "the size of the package needs to be commensurate with the crisis".
Biden's relief proposal, known as the American Rescue Plan, would give an additional $1,400 in stimulus checks to individuals to complement the $600 direct payments enacted in December, and $400 billion for vaccines instead of the $160 billion proposed by Republicans. The White House proposal would also enact a gradual increase to a $15 federal minimum wage if passed by Congress.
Neither Republicans nor Democrats, however, have proposed a bill to extend federal payroll support for airline workers. The extension of the CARES Act enacted in December is set to expire on 31 March.
A group of airline workers unions, including the Air Line Pilots Association (ALPA) and the Association of Flight Attendants, sent a letter on 28 January to congressional leaders requesting an additional $15 billion in airline payroll support to be extended through 30 September.
The group said in the letter that vaccine programmes and public health precautions will "restore confidence in air travel and revitalise our economy" but will also "strain aviation commerce" until the pandemic recedes, increasing the need for payroll support.
"We need stability and certainty now so workers know how they will provide for themselves and their families," the unions said in the letter.
Airlines furloughed thousands of workers when the first CARES payroll programme expired in October but the extension passed in December retroactively provides payment for those furloughed workers. United Airlines has warned 14,000 employees that they may be involuntarily furloughed once the extended airline payroll support expires on 31 March.
Democrats control a 51-vote majority in the Senate and lawmakers including Senators Bernie Sanders and Chuck Schumer have proposed passing bills through a budget reconciliation process that would allow them to bypass Republican opposition.
"It makes no sense to pinch pennies when so many Americans are struggling," Schumer said to the Senate on 1 February.
AIRLINES AND THE US ECONOMY
Congress has not yet proposed an extension of payroll support for airlines but stimulating the broader US economy would support businesses interdependent with aviation.
Democrats could also use their budget reconciliation option to add airline payroll stimulus in separate legislation if it is not included in the first proposal of 2021, Bloomberg Intelligence analyst George Ferguson tells Cirium, adding "my gut tells me the airlines will get more stimulus".
"[Airlines] have been supported with payroll money so far and would likely lay off a lot of people if they don't receive more stimulus," he says. "Maybe if the Democrats and Republicans decide to work together on the stimulus it will be a negotiating point and get trimmed but I don't think [this will be] fully eliminated."
Coronavirus infections in the USA have risen to new levels since November, stunting the tenuous recovery of air travel.
The US airline sector is burning about $150 million in cash daily amid the travel downturn, according to trade group Airlines for America (A4A). US carriers furloughed around 90,000 employees during 2020 to reduce costs.
The broader US economy has likewise been hit hard by the coronavirus as businesses have closed or shed jobs because of the infection risks of large gatherings. While increased vaccination during 2021 will ease social distancing restrictions, the nonpartisan Congressional Budget Office reports on 1 February that employment will not reach pre-pandemic levels until 2024.