China's three largest airlines plunged to record losses in 2022, a year that was marked by "unprecedented difficulties" as the country's 'zero Covid' policy came to head with a spike in infections.
The 'Big Three' – comprising Air China, China Eastern Airlines and China Southern Airlines – saw their passenger revenues shrink compared to 2021, as travel demand nosedived amid multiple restrictions through the year.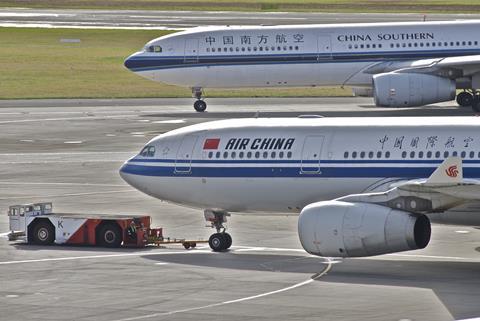 Still, the airlines sought to downplay the effects of Beijing's now-scrapped 'zero-Covid' policy, pointing instead to the global macroeconomic situation. China Eastern, for instance, attributes the aviation sector's woes to "multiple unexpected adverse factors" like high fuel prices, currency depreciation, as well as "international geopolitical conflicts".
Air China, in its review, makes no mentions of the macroeconomic challenges, focusing entirely on how "rose to challenges and fought hard to ensure safe operation with its best endeavours".
The carrier was the worst-performing among the 'Big Three', posting an operating loss of CNY35.4 billion ($5.2 billion) for the year to 31 December 2022. This compares to the CNY16.9 billion loss it reported in 2021.
Revenue for the year plunged 28% to CNY56.3 billion, with passenger revenue seeing the sharpest decline year on year. The Star Alliance carrier saw a 42% decline in full-year traffic, with passenger numbers falling about 44%.
Operating costs fell 4% year on year to CNY91.7 billion. While operations and MRO expenses fell because of reduced flying activity, the airline saw a rise in fuel expenses, as a result of high jet fuel prices.
As for China Eastern, it posted an operating loss of CNY31.6 billion for the full year, a steep plunge compared to 2021's CNY13.5 billion.
The airline's Shanghai hub was hit by a long-drawn lockdown in the middle of 2022, which greatly affected its operations.
Full-year revenue fell 31% to CNY46.1 billion, while costs dipped about 6% to CNY81.4 billion. Like Air China, China Eastern saw fuel costs go up, offsetting any decrease in expenses from reduced flying.
China Southern, which is the country's largest airline, posted an operating loss of CNY22.5 billion, compared to 2021's CNY9.9 billion loss.
Revenue for the year fell 14% to CNY87 billion, with passenger-related revenues falling the sharpest. The airline reported a 33% drop in system-wide traffic in 2022, while passenger numbers fell 36%.
Expenses for the full-year fell about 1% to CNY115 billion, with flight operation costs - which includes fuel - the only cost segment to rise.
Despite their record losses, the three airlines were hopeful of a rebound in 2023. China Eastern, in its outlook, states it expects the Chinese airline sector to "usher in a significant recovery" this year.
Beijing scrapped most of its zero-infection policies this year, resulting in a rebound in traffic, as well as a recovery in international travel demand.
Air China, meanwhile, states: "It is expected that the competitive pressure will be mitigated in the domestic aviation market. Regarding the demand side, as the national economy remains stable and [improves]…the domestic market demand will continue its revival."
China Southern took on a more cautious tone, noting that the global economy is still "facing constraints" like inflation and tightening monetary policies.