EasyJet expects to be close to returning to pre-crisis levels of activity late next summer after disclosing a pre-tax loss of £1.13 billion ($1.5 billion) for its pandemic-hit financial year just ended.
The airline generated revenues of £1.46 billion in carrying just over 20 million passengers for the 12 months ended 30 September 2021. That was around half the £3 billion revenue it made in its previous financial year in flying 48 million passengers – itself less than half the £6.4 billion and and 96 million passengers it recorded in 2019.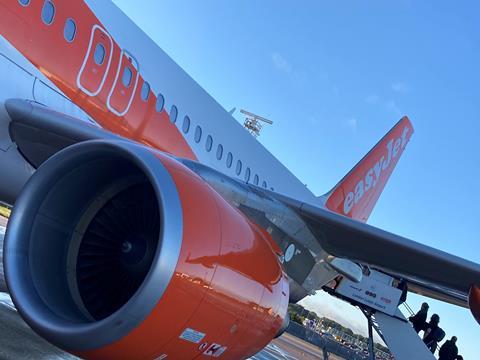 EasyJet's headline pre-tax loss of £1.13 billion for the year, taken together with a loss of £835 million in the previous year, means the carrier has recorded losses of almost £2 billion since the pandemic hit.
The carrier though has been gradually restoring activities as flight restrictions have begun easing and expects to fly 65% of pre-crisis capacity for the three months ending 31 December at load factors of over 80%, It sees capacity climbing to around 70% in the second quarter of its financial year.
EasyJet chief executive Johan Lundgren says: "We have seen an encouraging start to this year with strong demand returning for peak winter holiday periods, coupled with increasing summer demand with [fourth quarter 2022] capacity expected to be close to [2019] levels. As the UK's largest carrier, EasyJet expects a significant benefit as the UK bounces back next summer.
"We remain mindful that many uncertainties remain as we navigate the winter, but we see a unique opportunity for EasyJet to win customers and take market share from rivals in this period."
One such uncertainty is the recently identified Covid variant of concern Omicron.
"It's too soon to say what impact Omicron may have on European travel and any further short-term restrictions that may result," the airline says.
"However, we have prepared ourselves for periods of uncertainty such as this. While we've seen an increase in transfers with some softening of trading for Q1 it is really encouraging to see that we are still seeing good levels of new bookings for [the second half] and we still expect that [our financial fourth quarter] will see a return to near pre-pandemic levels of capacity."