UK budget carrier EasyJet has disclosed that it rejected a preliminary takeover approach from a potential bidder, as the airline prepares to reinforce its balance sheet with a £1.2 billion ($1.65 billion) share issue.
EasyJet has not disclosed the prospective bidder's identity, but says it "carefully evaluated" the approach before "unanimously" turning it down – and adds that the bidder is "no longer considering" an offer for the airline.
"The indicative proposal took the form of a low-premium and highly-conditional all-share transaction which, in the board's view, fundamentally undervalued the company," says EasyJet.
"In deciding to reject it, the board took into account all relevant factors including the highly-conditional nature of the proposal and the certainty and strategic opportunity that the rights Issue presented to the company."
EasyJet says the rights issue is fully underwritten and adds that it has agreed commitments for a new four-year $400 million revolving credit facility. The facility is conditional on the rights issue.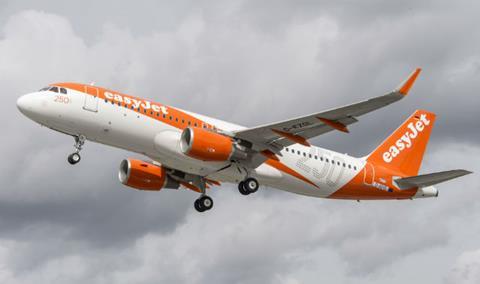 The carrier's board believes raising additional equity will "protect and strengthen" EasyJet's long-term position in the European air transport sector.
EasyJet will use the proceeds to protect against possible prolonged dampening of passenger demand through 2022, and to "facilitate and accelerate" its recovery from the pandemic, including continued investment in a fuel-efficient aircraft fleet.
But it adds that it wants to prepare for potential longer-term strategic opportunities, given that the crisis has shaken up the European airline market and spurred legacy companies to restructure short-haul operations.
EasyJet sees possible chances to strengthen its position in "high value" markets in western Europe, it adds.
It expects to be able to expand back to pre-crisis capacity by 2023 and generate "strong returns" as the recovery builds, adding that it is aiming for medium-term EBITDAR margins in the "mid-teen" region.
EasyJet also says it is EasyJet Holidays division is a "key driver" of profitability and revenue growth, and points out that a rights issue will support the "continued evolution" of its product portfolio, giving the company the chance to increase revenue-per-seat and margins.
It says the trading environment "remains uncertain" and the decision to raise additional equity follows a review of EasyJet's long-term capital and liquidity needs.
The carrier's UK domestic capacity in August exceeded pre-crisis levels. In the same month intra-European Union capacity was about 20% down on the 2019 figure.
EasyJet expects overall capacity in the fourth quarter this year to reach 57% of 2019 levels, adding that this is a "significant increase" on the third quarter figures. It also predicts it will operate up to 60% of pre-crisis capacity in the first quarter of 2022.