Israeli flag-carrier El Al has given up pursuing a $400 million state-backed loan and opted for an alternative fundraising package which could result in the airline being renationalised.
El Al's board has chosen a $250 million bank loan, which would have a state guarantee, alongside a $150 million share issue, says the carrier.
Under the proposal the government would undertake to purchase any shares to which investors do not subscribe.
This potentially means the government could acquire the entire $150 million share issue.
At the airline's current market capitalisation – some 249 million shekels ($72 million) on 6 July – this would equate to a 67% government shareholding.
Knafaim Holdings is the current main shareholder of El Al, with a 38.3% stake. Pinchas Ginsburg has just under 8%, while the other 53.7% is publicly traded.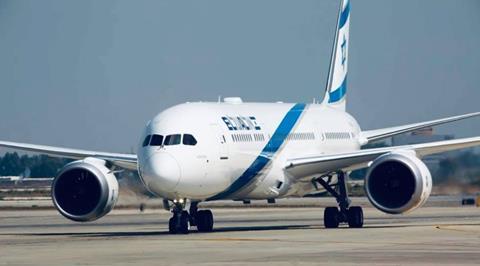 Implementation of the proposal requires the signature of a formal financing agreement and a number of other conditions, the airline says.
These include finalising collective agreements with personnel to achieve required productivity, and securing the approval of the government as well as the finance committee of the Knesset.
El Al shareholders will also need to approve the increase in share capital and the publication of a prospectus to accompany the share issue.
The carrier says it board made the decision after "examining all the relevant considerations and circumstances" relating to the two options being weighed.
"There is no certainty that the actions and conditions required for the full implementation of the plan will be completed," it warns.
El Al has stated that the financing measure is critical to the airline's survival, following the serious impact of the coronavirus crisis on its operations.