United Arab Emirates carrier Flydubai is following Emirates' plans for a substantial maintenance presence near Dubai's Al Maktoum airport, by unveiling its own agreement for a purpose-built MRO facility in the Dubai South area.
Flydubai has reached an agreement with Mohammed bin Rashid Aerospace Hub to develop the $190 million centre by 2026.
The carrier, which is expanding its fleet of Boeing 737s, is to embark on long-haul operations with the introduction of 787-9s.
It operates 80 737s and plans to take delivery of 150 additional aircraft by the end of the decade.
Flydubai says the MRO facility – including a new hangar and workshop – will support its in-house capabilities as the fleet increases. Work will commence next year.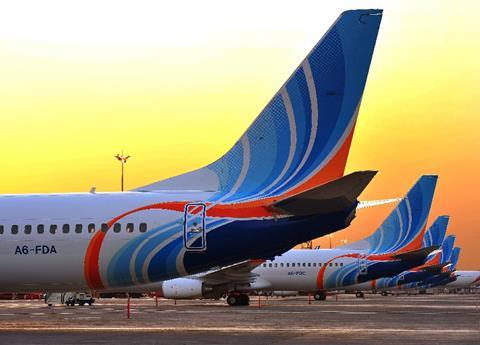 "This will bring Flydubai greater control over its maintenance requirements as it continues to grow its fleet and capabilities with a firm focus on the future," says the airline's chair, Sheikh Ahmed bin Saeed Al Maktoum.
"This milestone reaffirms our commitment to operational excellence, right here in Dubai South's dynamic ecosystem."
Flydubai chief executive Ghaith Al Ghaith adds that the MRO centre "represents a new chapter in our journey". The company secured base maintenance approval from the UAE regulator last year, allowing it to carry out C-checks and entry-into-service work on 737 Max jets.
It employs over 450 engineering and technical personnel, and adds that it is recruiting some 230 engineers over the next year, to ensure it is "well-positioned" for the MRO centre's opening.
"When it is up and running in 2026, the MRO facility on Dubai South will bring us significant reductions in operational costs," says chief operating officer Mick Hills.
"Having our own in-country MRO facility will ensure a quicker turnaround of our fleet maintenance while adhering to the highest quality standards.
"This increased level of control will result in reduced downtime as maintenance tasks can be efficiently planned and executed, minimising any disruption to our flight schedules in the future and enhancing overall operational reliability."