ACMI specialist ASL Aviation Holdings cites strong a performance across long-haul freight routes as a key driver in the company lifting revenues by one-quarter in 2021.
ASL made a profit of €43.6 million ($43.6 million) last year on revenues of €1.13 billion. The figures include results from ASL's airlines in Ireland, Belgium, France and the UK, as well associate and joint-venture carriers in Thailand and South Africa.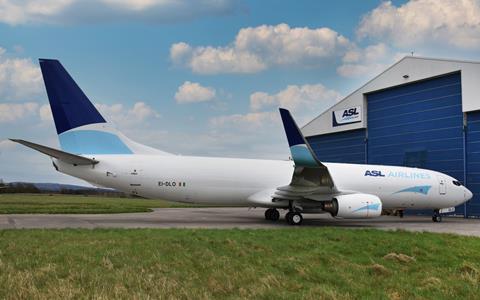 "The year saw strong performances across all business segments with ASL's long-haul freight routes, particularly between Europe and China, being a key factor," the company says.
ASL chief executive Dave Andrew says: "We executed a very positive, forward-looking strategy to control costs through the Covid crisis whilst investing in aircraft and new technologies to meet the requirements of our group and our customers to reduce and eventually eliminate carbon emissions.
"This parallel approach saw us remove operational duplication across our airlines and the creation of centres of excellence. Simultaneously we began a major investment programme in our narrowbody fleet including orders for up to 40 737-800 Boeing Converted Freighters [BCFs]."
After the group placed a follow-on order in March, ASL has 30 firm and 10 options in place for 737 BCFs – the 20th of which will be converted later this year. The airline says this summer it operated 54 Boeing 737NGs, surpassing the number of 737 Classics – it has 51 737-400s – for the first time.
The 737s form the mainstay of the group's overal fleet of 130 aircraft
Chief financial officer at ASL Mark O'Kelly, says: "We're very pleased with these results which show the strength of our business model and the critical nature of the services we provide."