IAG's decision to order a combination of Boeing 737 Max 10s and Max 8-200s puts an end to scepticism as to whether a tentative agreement for 200 aircraft, three years ago, would survive crises affecting the Max and the broader air transport industry, as well as changes of IAG management.
Its initial letter of intent, unveiled at the Farnborough air show in June 2019, was remarkable because the 737 Max had been grounded worldwide three months earlier after a second fatal accident involving the type.
Boeing was left trying to curb reputational damage, while orders for the aircraft stalled, and the highly-public commitment for up to 200 Max 8s and Max 10s – with the Max 10 still two years from first flight – from such a significant operator was unexpected.
IAG's then-chief Willie Walsh had expressed "great confidence" in Boeing and the aircraft, even as doubts over the jet's future surrounded the agreement – omission of the tainted 'Max' designation from IAG's official statements did not escape attention.
But IAG sought to demonstrate that it was serious about the order, even as it acknowledged the curious timing of the agreement and the uncertainty over the Max programme.
The company has been a strong Airbus customer, with British Airways, Iberia, Vueling and Aer Lingus using the A320 family almost exclusively for single-aisle operations.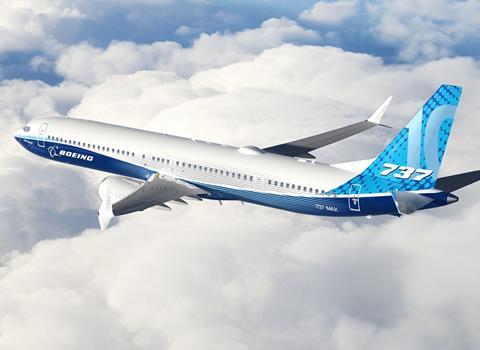 Walsh had pointed out that this heavy reliance on Airbus was "unhealthy" and cause for unease – even as IAG was working to strengthen commonality among the different A320-family configurations within its carriers – and the company considered a dual-sourced single-aisle fleet potentially beneficial.
"If you have 20 or 30 aircraft a single type is important," said then-British Airways chief Alex Cruz at the time. "When you have 400 you have more flexibility."
Ryanair has been an exclusive operator of Boeing 737s but eventually ventured into A320 services through its acquisition of the Austrian carrier Lauda.
The Irish budget airline chose a high-density version of the 737 Max 8, known as the Max 8-200, for its fleet renewal and IAG has opted partly for the same variant.
IAG says these specific aircraft will be able to accommodate up to 200 passengers, increasing revenue and reducing fuel-burn.
While it has not formally assigned any of the 737 Max jets to particular airlines, IAG has previously indicated that British Airways' short-haul operation at London Gatwick, as well as its Spanish budget division Vueling, would be among the recipients.
British Airways has established a new Gatwick operator, BA Euroflyer, which will absorb its short-haul network from the airport.
The fleet renewal with the Max – which retains the same delivery timing as the original 2019 letter of intent – will commence next year and run to 2027, potentially setting British Airways up to restore 737 operations eight years after phasing out its last example in 2015.
British Airways was also a significant user of Boeing 757-200s, before retiring the type in 2010.
The 737 Max agreement will include the Max 10 variant, and IAG signals that the aircraft – with its range of 3,300nm and capacity to seat 230 passengers – will be able to pick up a number of routes that 757s would have served.
Both Willie Walsh and Alex Cruz have left IAG since the original Max agreement was reached. The aircraft has re-entered service, following its prolonged grounding, and the air transport industry has been reshaped by the pandemic.
The IAG commitment for 150 aircraft – comprising 25 Max 10s and 25 Max 8-200s, plus options for another 100 – is reduced from the original figure of 200.
But IAG's current chief Luis Gallego, says the introduction of new 737 will be an "important part" of the company's short-haul fleet modernisation.
Boeing Commercial Airplanes chief Stan Deal adds: "With the selection of [these jets], IAG has invested in a sustainable and profitable future, as both variants will significantly lower operating costs and carbon dioxide emissions."