Virgin Australia has reported its first annual profit in 11 years on the back of record leisure travel demand, and as business transformation efforts continue to bear fruit.
Net profit after tax stood at A$129 million ($82.7 million) for the year ended 30 June, with revenue more than doubling year on year to more than A$5 billion. Meanwhile, underlying EBIT for the year was A$439 million.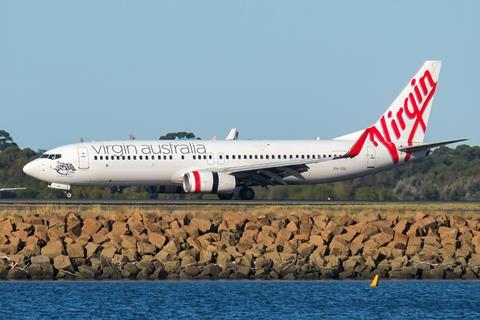 Virgin Australia points to "record travel demand for leisure", coupled with the return of small- and medium-sized enterprise customers for the improvement in earnings.
"Efficiency initiatives delivered a significant increase in profitability in spite of higher fuel prices. Virgin Australia continues to see healthy demand as customers prioritise travel in the face of cost-of-living pressure," the airline adds.
Virgin Australia filed for voluntary administration in early 2020 at the onset of the coronavirus pandemic, in a bid to recapitalise its operations. It had been in a shaky financial state, having been in the red in each of the previous seven financial years.
It emerged from administration in November 2020 under new owners Bain Capital, relaunching as a mid-market operator, eliminating all widebodies from its fleet and operating just Boeing 737s on domestic and short-haul flights.
Airline chief Jayne Hrdlicka hails the "important milestone" for the airline, noting that the financial results "signal that the transformation of Virgin Australia is progressing well".
"By creating a systemically lower cost base and a conservative balance sheet as well as investing heavily in technology and our frontline, we are well positioned for the future," Hrdlicka adds.
Airline finance chief Race Strauss says that Virgin Australia is "in a very strong capital position" after more than two years of business transformation.
"Our balance sheet is now considerably stronger and the cost base of the business has significantly improved from recent years. Future transformation plans put us in a good position to manage cost headwinds and continue to improve our business," he adds.
The airline in June took delivery of its first 737 Max 8, kicking off its fleet renewal programme. The aircraft is the first of of 33 737 Max aircraft that the airline will receive over the next five years. It also rolled out a A$110 million cabin refresh programme for some of its older 737s in July.