Virgin Australia is to spend around A$110 million ($73.6 million) to refresh its older Boeing 737 cabins, as it takes delivery of new 737 Max jets in the coming months.
Work to upgrade business and economy class cabins – to products similar to its new 737 Max fleet – will begin later in the year, the airline says, and will span two years.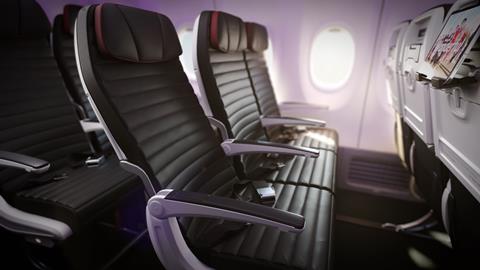 The carrier on 8 July unveiled the cabin products of the 737 Max fleet, which will enter commercial service in end-July.
The aircraft is configured to seat 182 passengers in a two-class seating, with Virgin Australia touting an "entirely new seat configuration" with a new cabin divider design that allows for up to 12 more economy class "without changing the legroom experience".
The eight business class seats will feature legrests with extendable footrests, with storage compartments and personal device holders.
Economy class seats feature "a ribbed backing to elevate comfort and ergonomics". Virgin Australia has eschewed installing seatback inflight entertainment in the new cabins, choosing instead to allow passengers to stream entertainment through their mobile devices.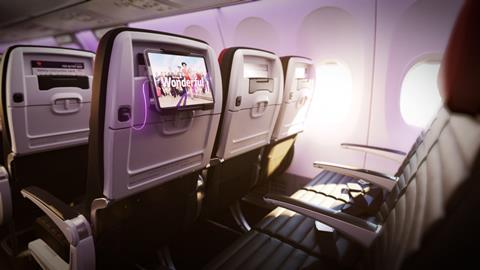 The airline's older 737-800s and -700s will now feature new seats in business and economy classes that are similar to the Max 8 fleet.
"Once the cabin refresh program is complete, the unified inflight offering will deliver more seats for travellers and a consistent guest experience across all flights operated by Virgin Australia Boeing 737 aircraft," the carrier states.
The unveiling of new cabin products follows a trial rolled out in 2021 on two 737-800s, which featured prototype cabin interiors.
Paul Jones, the airline's chief customer and digital officer, says: "[Over] the last couple of years we've been able to obtain feedback from our guests, which enables us to enhance our entire Boeing fleet with the features that are most important to them."
Virgin Australia on 28 June took delivery of its first 737 Max 8, which it will deploy on flights from Cairns to Tokyo Haneda.
The aircraft (VH-8IA) – on lease from lessor CALC – is the first of 33 737 Max aircraft that the airline will take delivery of over the next five years. Virgin Australia has eight Max 8s and 25 larger Max 10s on order.