IndiGo recorded a positive result in its seasonally weakest July-September period for the first time in five years, extending its profitable run to four quarters, as it works on mitigation measures relating to the grounding of Pratt & Whitney geared turbofan (GTF)-powered aircraft.
The Indian low-cost carrier – whose results are reported through parent company Interglobe Aviation – swung to a net profit of Rs1.89 billion ($22.7 million) in its fiscal second quarter, compared with a net loss of Rs15.83 billion in the year-ago period. Foreign exchange losses of Rs6.17 billion continued to weigh on the carrier's profitability but much less severely than in the previous year, when they amounted to Rs12 billion.
IndiGo's EBITDAR of Rs24.4 billion was significantly up from Rs2.29 billion a year earlier.
The carrier expresses confidence that strong demand growth and a capacity shortage in the wider market continue to offer a strong counterbalance to cost pressures relating to rising jet fuel prices and inflation.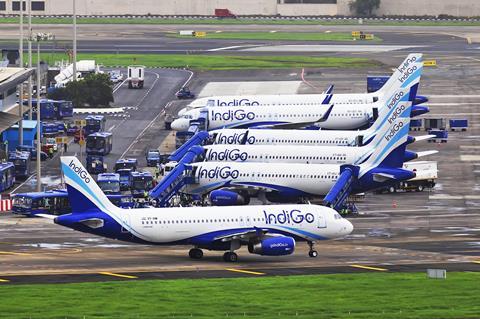 "I am pleased to report yet another profitable quarter despite the seasonal fluctuations and external headwinds coming into play," says IndiGo chief executive Pieter Elbers. "With our clear strategy and focus on execution, we have completed a full cycle and remained profitable for the last four quarters.
"We continued to augment our network both domestically and internationally as we added 10 new destinations in the past few months, taking the total number of destinations to 115 as of today," he adds.
Operating revenue during the fiscal second quarter was up 20% year on year at Rs149 billion, on capacity some 28% higher, IndiGo says.
Yields, however, were down 12% year on year, alongside a load factor improvement of 4.1 points to 83.3%.
The carrier notes that the grounding of A320neo-family twinjets because of issues with their Pratt & Whitney GTF engines is expected to be a significant consideration looking into 2024 but that it is working on lease deals and other mitigation measures to overcome any capacity impact.
It declines to offer capacity guidance for 2024, only saying that capacity in the final three months of 2023 is expected to be up 25% year on year.
The airline had 334 aircraft in its fleet as of 30 September, including 176 A320neo-family jets – of which around 135 were GTF-powered. It expects to have 350 aircraft by the end of its financial year.