IndiGo expects to ground more than 30 aircraft in the first quarter of 2024 as it continues to deal with the fallout from technical issues impacting the Pratt & Whitney PW1100G engine.
The low-cost operator on 7 November said it expects aircraft groundings "in the range of the mid-thirties" in the January-March quarter, after it "received additional information" from P&W about the remedial actions required on its PW1100Gs.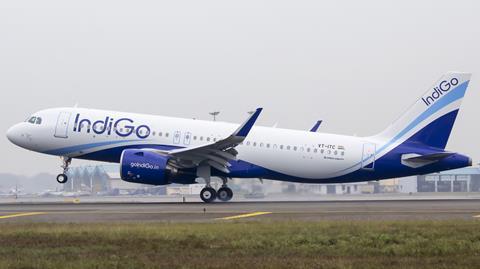 "These groundings will be incremental to the current [aircraft on ground]," the airline, India's largest operator, adds. IndiGo's fleet of Airbus A320neo-family aircraft are mostly powered by PW1100G engines, with only a minority equipped with the alternative CFM International Leap-1A.
IndiGo executives had earlier warned of an uptick in aircraft groundings in early 2024, with airline finance chief Gaurav Negi stating that the "accelerated [engine] removals and incremental shop visits will further adversely impact our operating fleet".
Negi, who was speaking at an earnings call on 3 November, said issues with the PW1100G engines have left the airline with more than 40 aircraft on ground currently. IndiGo had 334 aircraft in its fleet as at 30 September, including 176 A320neo-family jets.
Still, the airline says it "remains confident" in meeting its capacity forecasts, despite the ongoing technical issues. It reconfirms its capacity guidance for the October-December quarter and says it remains on track to meet the "north of mid-teens" capacity growth guidance for the full financial year.
Negi and airline chief Pieter Elbers say that the airline has in place several mitigation measures, including retaining older A320ceos in its fleet, as well as executing 'damp leases' on 11 more jets.
The airline, in its latest statement, adds: "Going forward, we continue to work with Pratt & Whitney on more information and addressing the situation and implementing mitigation measures."
P&W parent RTX said in September that it expects an average of 350 GTF-powered A320neo-family jets from the global fleet will be grounded "from 2024 through 2026", owing to defective high-pressure turbine and compressor disks.
The issue has created significant challenges for airlines globally, and has impacted the earnings of aerospace companies linked to the programme.