Kenya's parliament has been questioning Kenya Airways and the country's transport ministry over concerns regarding the flag-carrier's financial position.
The senate standing committee on trade, industrialisation and tourism met on 13 June to discuss the operational and financial status of the carrier, and understand whether steps were being taken to address its substantial losses.
Kenya Airways' full-year pre-tax loss more than doubled in 2022 to KShs38.3 billion ($274 million), and its total liabilities exceed its total assets by more than KShs108 billion.
The committee sought an outline of Kenya Airways' strategy to repay loans without incurring additional penalties, and the reasons for its increasing operational costs.
Senator Samson Cherarkey also requested details on recruitment at the carrier, and whether it had favoured foreign personnel over Kenyan nationals.
According to the parliament, the committee found responses on these issues from the ministry of transport to be "inadequate" and is intending to investigate further.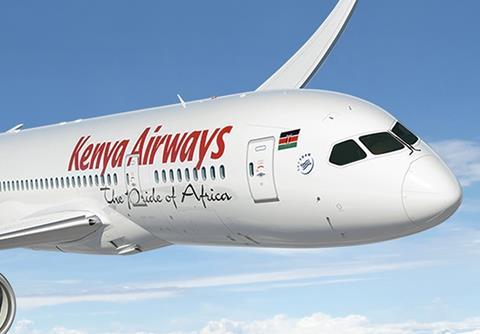 The session followed an appearance, the day before, of Kenya Airways chief Allan Kilavuka before the public debt and privatisation committee.
"Of major concern to [this] committee is the airline's plan to get out of debt and become competitive," says the parliament.
Kilavuka remarked on the airline's performance last year, highlighting the two-thirds rise in revenues to KShs116 billion despite the impact of fuel prices and effects of the Ukrainian conflict, as well as the "significant deterioration" of Kenya's currency against the US dollar.
He explained that the airline had managed to cut operating losses from KShs6.8 billion to KShs5.6 billion over the year, and briefed the committee on the three-year 'Project Kifaru' turnaround plan which commenced in February 2022.
Project Kifaru is intended to address high fleet costs and structural issues at the airline, which were not resolved by previous restructuring programmes, in order to reduce debt and return to profitability.
Kenya Airways claimed in its full-year results that, without the hike in fuel costs, the financing costs and the currency devaluation, it would have achieved break-even before tax and an operating profit.
"This means that the airline is a viable business and that the initiatives put in place by management are bearing fruit," it added.