Kenya Airways has turned in a half-year operating profit, but foreign-exchange effects overwhelmingly wiped out the improvement and led to heavy losses in the six-month period.
The airline says it generated an interim KShs998 million ($6.8 million) operating profit which contrasted with a previous KShs5 billion loss.
Revenues for the half-year increased substantially to KShs75 billion as passenger numbers rose by more than 40% to 2.3 million. Load factor reached 76.1%.
"These results confirm the operational viability of the airline," insists chief executive Allan Kilavuka.
He says the airline has "significantly" improved the availability and reliability of its aircraft fleet, increased punctuality, and enhanced customer experience.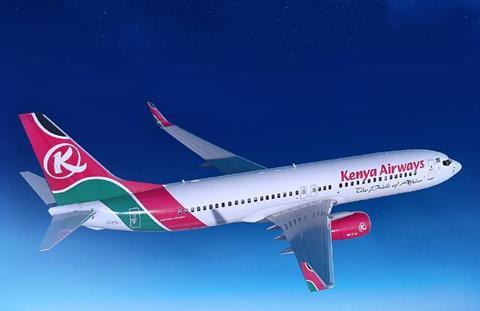 But Kilavuka also acknowledges the effect of a KShs17 billion impact from foreign-exchange losses on loans and leases, which have resulted in a pre-tax loss of KShs22 billion.
He says legacy debt and devaluation of the Kenyan currency – down 14% this year against the US dollar – are obstructing the airline's recovery.
"We are working to resolve the issue of the legacy debt in collaboration with our stakeholders and the Kenyan government," he says.
"Devaluation of the Kenya shilling has a significant negative impact on our financials as a majority of our transactions are carried out in the major foreign currencies."
Kenya Airways says the operating profit is its first in six years.
Kilavuka says the airline is looking to recapitalise to reinforce its financial position. "We will continue focusing on our network expansion and fleet optimisation to increase passenger and cargo capacities," he says.
"We see a promising trend in forward bookings for the year's second half."