Start-up carrier Beond has formally unveiled its first aircraft at an event in the Maldives, from where it aims to conduct initial services to European cities.
Beond will commence services with an Airbus A319 (8Q-FBA) which was originally delivered to EasyJet in 2004.
It aims to operate from Male, the Maldivian capital, to Munich and Zurich, refuelling in Dubai, from mid-November. The airline has also listed Riyadh as a destination.
The company, which says it has obtained an air operator's certificate, is pitching itself as a "premium leisure" airline.
Its A319 configuration includes 44 lie-flat seats and the carrier is promising such amenities as "fine dining".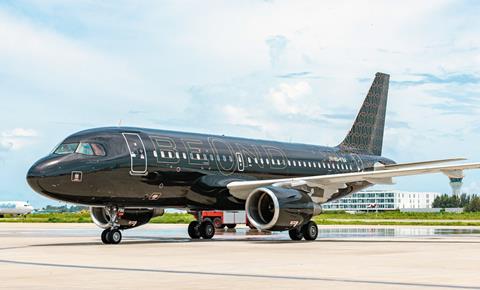 Chief executive Tero Taskila – formerly with Gulf Air, Air Baltic and Estonian Air – says the carrier will be a "lightweight, low-cost operation" and intends to expand the Airbus single-aisle fleet to connect more cities to the Maldives.
Beond will display the A319 at the Dubai air show in November, and states that additional Airbus jets will join its fleet later this year and in early 2024.
Taskila previously indicated that Beond would use an A321 fitted with 68 premium-class seats.
The company disclosed in August that it had obtained more than $17 million in seed capital from a group of investors.
Beond says this reflects "strong confidence" in the airline's potential. It has not identified the investors behind the company, beyond stating that they include "family offices, angel investors and strategic partners".
Chief commercial officer Sascha Feuerherd says the carrier aims to "exceed every expectation" from "the moment [passengers] book with us".