Transport and logistics specialist Mediterranean Shipping Company (MSC) has acquired a majority stake in Milan-based airfreight carrier AlisCargo Airlines.
The companies say it marks the first step towards MSC acquiring 100% of the Italian carrier. It expects the full transaction to happen at the start of next year when AlisCargo Airlines will restart operations with the delivery of a Boeing 777F.
AlisCargo launched operations in the summer of 2021 using Boeing 777-200ERs in a preighter configuration, but its operating licence was suspended at the turn of the year.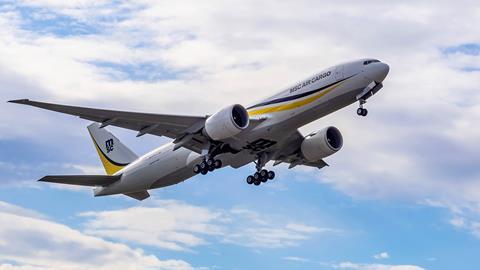 "This transaction is yet another step to further developing MSC Air Cargo operations and creates a European gateway and transit point for MSC's air cargo solutions," the Geneva-headquartered logistics company says. "Furthermore, the deal complements MSC Air Cargo's aim to expand its existing trade lane network with better coverage and increased flexibility."
The majority selling party is represented by the Leali Group, led by Air Dolomiti-founder Domenico Alcide Leali.
AlisCargo Airlines general manager Giacomo Manzon says: "I am proud to see a group like MSC entering as a major shareholder of AlisCargo Airlines and developing further the project that Leali Group has initiated."
MSC is in the process of expanding its air cargo operations. It launched operations under its own brand last November with its operating partner Atlas Air Worldwide. Last month Atlas Air took delivery of a second Boeing 777-200 freighter it is operating on MSC's behalf and is set to take two further 777 freighters it will operate under the co-operation in the fourth quarter.
MSC had previously shown interest in the Italian market when it teamed up as a consortium partner with Lufthansa to study a potential bid into ITA Airways. MSC dropped out of the consortium in November last year, before Lufthansa later reached a deal for ITA.