Norse Atlantic Airways has conducted a landing on Antarctic ice using one of the Scandinavian carrier's Boeing 787-9s.
The twinjet flew from Oslo to Cape Town, stopping in South Africa for 40h, before making the onward connection to Antarctica's Troll research station on 15 November.
It was transporting 45 personnel, including Norwegian Polar Institute scientific and logistics staff, as well as 12t of equipment bound for Troll and other Antarctic stations, according to the carrier.
The aircraft involved (LN-FNC) is powered by Rolls-Royce Trent 1000 engines.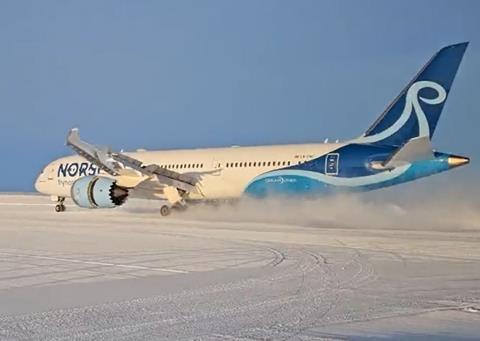 It was originally delivered to budget carrier Norwegian's UK division in 2018 before being leased by Norse Atlantic last year.
"[This landing is] a true testament to our highly-trained and skilled pilots and crew, and our state-of-the-art Boeing aircraft," says Norse chief executive Bjorn Tore Larsen.
The Norwegian Polar Institute says the 787 is the largest aircraft to have landed on the 3,000m blue-ice Troll runway, although other large types have performed Antarctic landings – notably the Airbus A340-300 at Wolf's Fang in November 2021.
"The most crucial aspect is the environmental gain we can achieve by using large and modern aircraft of this type for Troll," says institute director Camilla Brekke, adding that use of such types "opens up entirely new possibilities" for logistics.
"This can help reduce overall emissions and the environmental footprint in Antarctica."
Scandinavian air broker Aircontact undertook the contracting of the Norse Atlantic flight. The company says the 787's "huge cargo space" makes the twinjet "perfect" for Antarctic services.