Wet-lease operator Hi Fly has detailed its landing of an Airbus A340-300 on an Antarctic ice runway, the first time the four-engined type has carried out such an operation.
The Maltese-registered aircraft (9H-SOL) conducted the flight from Cape Town to the runway at Wolf's Fang – a distance of some 2,500nm – on 2 November.
Hi Fly says it is using the jet to fly tourist, scientists and freight to Antarctica.
"Its exceptional range and four-engine redundancy also makes it ideal for this type of remote operation," the carrier adds.
It says the scheduled load included 23 passengers and ground-support equipment, to assist with setting up the Antarctic operation, transported in the cargo hold.
Hi Fly says the aircraft was a high-weight variant with a maximum take-off weight of 275t, and it transported 77t of fuel because no refuelling facilities are located at Wolf's Fang.
Communication was achieved through ADS surveillance and controller-pilot datalink until around 250nm from the destination, and the crew switched to a local VHF radio contact at about 180nm.
Wolf's Fang is located at a latitude of about 71° south which meant the crew had to use a true, rather than magnetic, heading reference beyond 65° south.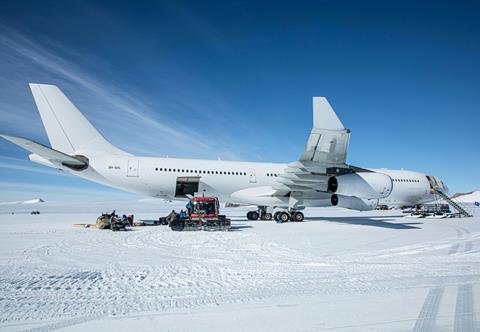 "When you fly to the end of the world you need frequent assurance that the actual weather meets the forecast," says Hi Fly vice-president Carlos Mirpuri, the captain of the flight.
He says weather data from Wolf's Fang was transmitted through ACARS via Lisbon, where Hi Fly's main operation is based, and the crew also receives friction data for the 3,000m ice runway.
The necessary fuel tankering meant the A340 would carry out the approach at maximum landing weight of 190t.
Mirpuri says there is "tremendous" reflection from the surface and eyewear is needed to help switch between the internal and external view.
"The non-flying pilot has an important role in making the usual plus extra callouts, especially in the late stages of the approach," he adds.
"There is also no visual glideslope guidance, and the blending of the runway with the surrounding terrain and the immense white desert around, makes height judgement challenging."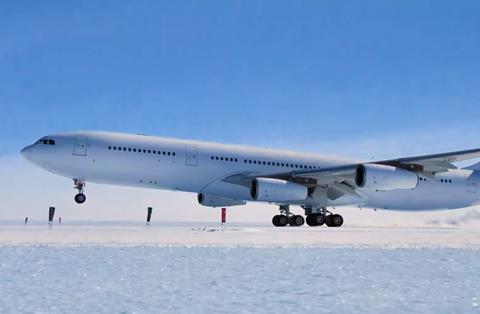 He says the A340 landed safely and, while the turnaround had been scheduled for 3h, it was achieved in "much less time".
"Take-off was uneventful, as was the return flight," he adds. "All goals for this first flight had been met."