Middle Eastern carrier Oman Air has equipped its training centre with a Boeing 737 Max 8 simulator.
The airline says the system has been acquired from specialist CAE, and installed in the flight-training centre at Muscat.
Oman Air has 13 Max 8s in its fleet of 45 aircraft.
"The [Max 8] is a mainstay of our fleet, and the new simulator will enable us to optimise our operational efficiency and ensure significant cost savings," says chief operating officer Capt Nasser Al Salmi.
He says the training upgrade is an "important milestone" in the carrier's growth, supporting its aims to enhance capacity and expand its network.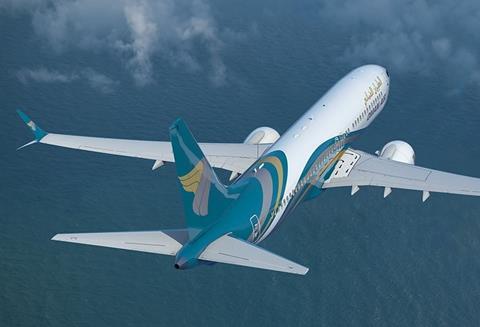 Oman Air has been pursuing an 'Omanisation' programme to attract nationals of the sultanate to the carrier, and says this has reached a level of 81% for its pilots.
According to the airline's first-quarter performance results, Oman Air generated 88% higher revenues in the three months to 31 March, compared with 2022, although it has not given specific figures. The airline also claims full-year net losses have been reducing since 2020 and are forecast to continue falling this year.