Russian carrier Utair halved its pre-tax losses in the first quarter, despite initial effects from the coronavirus crisis, but the impact on the second quarter has yet to become clear.
The financially-pressured carrier's passenger numbers in April were down by nearly 90%.
Utair disclosed in early March that it was taking action in response to the coronavirus outbreak, reducing services to Milan, Vienna and Riga, but it has worked to open new connections within Russia using Boeing 737s and ATR 72s.
It has also used Boeing 767-200 aircraft to operate freight supply flights to remote Russian regions, and conduct medical equipment shuttles from China.
Utair's revenues for the three months to 31 March edged upwards to Rb10.53 billion ($145 million) despite the influence of the pandemic and the "massive closure" of foreign flights, the carrier's financial director Igor Petrov says.
It cut expenditure by 9% to Rb11.55 billion by increasing fuel efficiency, optimising ground-handling and completing lease payments on 22 737s, the company adds.
The airline's pre-tax loss halved to Rb1.67 billion, under local accounting standards, and its net loss was down 30% to Rb1.79 billion.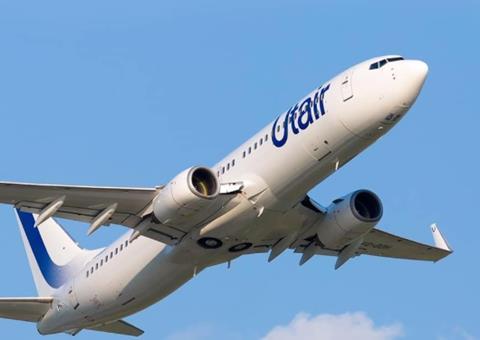 Petrov says the airline wrote off tax assets at the end of last year, reducing net assets by Rb14.4 billion, to "objectively reflect" the state of its assets and liabilities.
"In the situation of a market downturn due to coronavirus, it is important to show a realistic financial result in advance," he says.
Utair's balance sheet remains precarious. Its total liabilities of Rb98 billion exceed its total assets of Rb66 billion.
Auditor EY remarked in the company's full-year financial statement that there was a "significant uncertainty" regarding its ability to trade as a going concern.
It pointed out that the negative net assets of nearly Rb30 billion was lower than the minimum authorised figure for public joint-stock companies under federal law.
Utair has been undergoing debt restructuring and says this process is continuing in co-operation with creditors.
Russian federal air transport regulator Rosaviatsia has been considering applications from the country's carriers for coronavirus-related subsidies.
It has approved a financial package of Rb7.89 billion for three Aeroflot Group carriers – Aeroflot, Rossiya and Aurora – after the company became the first to supply all necessary documentation.
Documentation from another six airlines is under review, the regulator adds, but Utair is not listed among them. The other six operators comprise S7 Airlines, Ural Airlines, Azur Air, Azimut, Smartavia and Red Wings.
"This measure of state support will ensure the continuation of the activities of Russian airlines and the preservation of civil aviation personnel," says Rosaviatsia.