Qantas, IndiGo, and Air India are all adding to their international networks, while Singapore and Japan are working towards greener air travel between the two countries.
With the arrival of a new 787-9, Qantas will boost frequencies on the Sydney-Auckland-New York route to four times weekly from three times weekly. The additional frequency will be implemented in late October.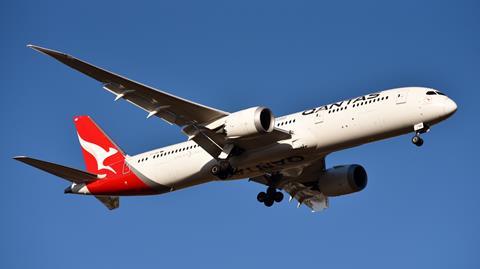 The new 787-9 is the eighth aircraft to enter the carrier's fleet this year, including two Airbus A380s that returned from long term storage during the coronavirus pandemic.
"The arrival of a new aircraft is always an exciting time for our teams across Qantas and there's a lot of people who have been involved in getting [the aircraft] ready for its first passenger flight to London today," said Qantas International chief executive Cam Wallace on 27 July.
"And there's a lot more to come as the biggest fleet renewal program in our history continues to ramp up. This is the eighth new aircraft we've added to the Qantas group network this year as we've taken delivery of new planes, and we're on track to add another four over the next six months."
Indian low-cost carrier IndiGo is launching of a codeshare connection to Casablanca, which will see it place its code on Turkish Airlines' daily service to the Moroccan city.
"We are thrilled to announce our latest connection to Casablanca via Istanbul, which is our first into North Africa with our codeshare partner Turkish Airlines," says Vinay Malhotra, head of global sales at IndiGo.
"As the largest city in Morocco and the country's economic and business centre, Casablanca presents exciting opportunities for our customers for trade as well as tourism, including to nearby cities such as Marrakesh."
Air India, meanwhile, will launch a four-times-weekly service on the Delhi-Dhaka route from 15 September with Airbus A320s, adding to its three-time-weekly service on the Kolkata-Dhaka route.
In its second quarter results update, Singapore Airlines said it would resume four-times-weekly services to Busan from 28 August, and increase frequencies to Hong Kong, Japan, Thailand during the winter season.
In addition, it will add services to Australian cities in late November. More frequencies will be operated to Frankfurt from 31 January 2024 to the end of the winter season. SIA and low-cost unit Scoot also aim to restructure their India services from late October.
At a meeting in Singapore, the Civil Aviation Authority of Singapore (CAAS) and the Japan Civil Aviation Bureau (JCAB) committed to increasing connectivity between the two countries.
The two agencies also want to make air travel between Japan and Singapore more environmentally friendly through an "Aviation Green Lane" that comprises airline operations, airport processes, and air traffic management (ATM).
"On ATM, both authorities also agreed to jointly implement green ATM for all flights between Singapore and Tokyo," say the pair in a joint statement.
"The two authorities will jointly implement green ATM measures, namely, to facilitate continuous climb and descent operations, and optimal cruising flight level assignment, which will save fuel, cut carbon emissions, and reduce flight times."
The pair held a trial in June where a single daily passenger service used "green ATM." The pair are also involved in the expansion of trajectory-based operations.