Qantas has pushed back a planned resumption of international flights, following indications from the Australian government that the country's borders will only reopen in 2022.
The Oneworld carrier delayed its international restart from end-October to late-December, though it notes that flights to and from New Zealand — which fall under the ambit of the Trans-Tasman travel bubble arrangement — are not affected.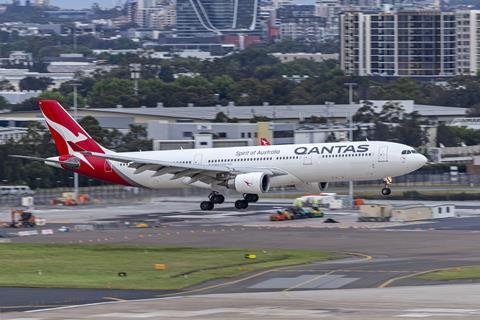 In its federal budget on 11 May, Canberra hinted that international borders will remain closed for most of the year as an inoculation drive gets underway, with international travel likely to "remain low" through mid-2022.
"The rate of international arrivals will continue to be constrained by state and territory quarantine caps over 2021 and the first half of 2022, with the exception of passengers from safe travel zones," the Australian budget papers state.
It follows comments made by several Australian politicians that borders will likely only reopen in the second half of 2022.
The latest announcement is a blow to Qantas' plans to relaunch international flights, and is the second time it has had to postpone such flights. The carrier had previously indicated July 2021 as a likely restart date, before delaying it to October.
Qantas states: "We remain optimistic that additional bubbles will open once Australia's vaccine rollout is complete to countries who, by then, are in a similar position, but it's difficult to predict which ones at this stage."
"This planning assumption will allow the Qantas Group – and Australia – to be ready to take advantage of pockets of tourism and trade opportunity as they emerge in a post-Covid world. We will keep reviewing these plans as we move towards December and circumstances evolve," it adds.
While Australia has largely gained control of the coronavirus, it is lagging behind in its vaccination programme — a move seen as critical to reopen its borders. Data compiled by Reuters shows the country to have administered about 2.66 million doses of the vaccine, which equates to around 5.2% of the population.