Russian carrier S7 Airlines has reconfigured a pair of Airbus A319s to increase premium accommodation on the type for high-demand business routes.
The carrier has fitted just 96 seats to the aircraft, including 24 in the business-class cabin.
S7's A319s have featured a single-class arrangement with 144 seats, while Airbus puts typical two-class accommodation at 110-140 seats.
The Russian operator describes the modification as the 'A319 Extra Edition', and states that it will be used for corporate requests as well as scheduled services with high business-passenger demand.
"We've noticed high interest in special transport from the corporate sector," says S7 Group strategy chief Grigory Davydov.
"We would previously have had to take the aircraft out of the regular schedule, which often involves additional costs."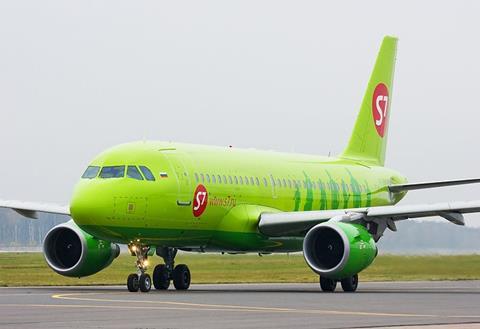 But Davydov says the modified A319 enables the carrier to be "more flexible". Its economy-class cabin, with 72 seats, has a larger pitch at 34in.
S7 put the initial aircraft into operation in early November on routes including Moscow-Simferopol, and has also deployed it upon request from customers. The second A319 Extra Edition will be introduced in the second half of this month.