United Airlines' net profits climbed by one-fifth in the third quarter to reach $1.1 billion, in part driven by a strong performance on its international routes in the Atlantic and Pacific regions.
The Star Alliance carrier lifted revenues for the three months ended 30 September by 12.5% to reach $14.5 billion.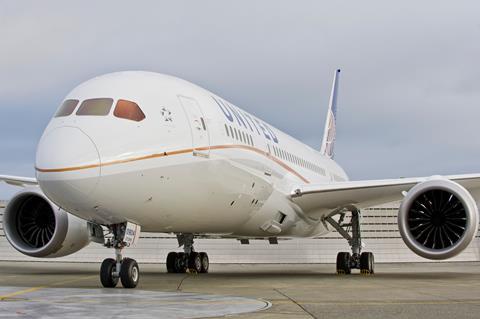 That reflects particular growth in international passenger revenues, which rose almost a quarter to $5.7 billion.
United points to record profits in both the Atlantic and Pacific passenger markets. Revenue climbed 15% on Atlantic routes versus the same quarter last year – and by 70% over the same period in pre-pandemic 2019.
Turnover on Pacific routes exceeded pre-pandemic levels in the third quarter, despite capacity still being down by almost one quarter on 2019 levels.
Domestic passenger revenues climbed 9%, to $7.7 billion, for the third quarter.
United's operating costs increased nearly 12% for the quarter, slightly below the rate of revenue growth. As a result operating profit for the third quarter rose 19% to just over $1.7 billion.
United Airlines chief executive Scott Kirby says: "Our strategy to diversify our revenue streams, capitalise on growth opportunities and constantly innovate to enhance our products for our customers is paying off. Our United Next strategy is working and we remain on track to hit our financial targets."
The airline has though indicated the potential impact on earnings in the fourth quarter from higher fuel costs and the suspension of its flights to Tel Aviv in Israel.
It expects fourth-quarter revenues to be 10.5% higher than 2022 levels, on the assumption that its Tel Aviv flights will remain cancelled through October. That would fall to growth of around 9% if the suspension continues through to the end of the year.
Likewise it sees adjusted earnings per share for the fourth quarter of $1.80 with October Tel Aviv flights cancelled, or of $1.50 if they are suspended for the full quarter.