Consumer complaints about air travel during the busy summer travel season jumped almost fourfold between May and June compared to pre-pandemic levels.
The US Department of Transportation (DOT) said on 26 August that it received 5,862 complaints about airline service during June. That is up almost 35% from a month earlier, and 270% more than during the same month in June 2019. Most of those complaints were due to flight issues, refunds, mishandled baggage, on-time performance and other operational problems.
For the first six months of 2022, the department received 28,550 complaints, up 28% from the 22,336 filed during the first six months of 2021 and more than the entire year of 2019.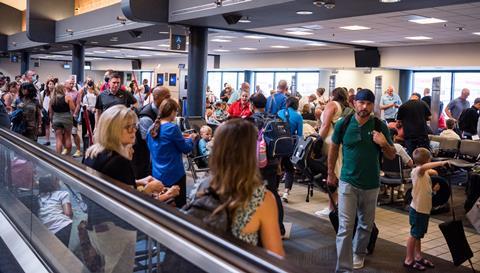 "DOT remains committed to ensuring airline passengers are treated fairly and is concerned about recent flight cancellations and flight disruptions," the agency says. The department's Office of Aviation Consumer Protection (OACP) is "monitoring airlines' operations to ensure that airlines are not engaging in unrealistic scheduling of flights and are complying with aviation consumer protection requirements".
DOT adds that in June US airlines operated 583,584 flights, about 86% of those operated during the same month in pre-pandemic June 2019, and 3.4% more than in the same month one year ago. Airlines have attributed issues to air traffic control problems and staffing levels that have not kept up with surging demand for air travel.
Last week, US transportation secretary Pete Buttigieg slapped down US carriers for operational issues that have been causing major air transportation disruptions through the summer travel season.
In a letter to airline executives on 18 August, he said service in past months has been "unacceptable", and he urged them to improve quickly.
In response to problems that have been plaguing the aviation infrastructure, Buttigieg said the DOT will implement an interactive online dashboard in September to track airline service levels. It will be "a single venue where they can locate easy-to-read comparative summary information" on each airline, Buttigieg said.
The move follows a recent proposal that would provide additional financial protections to airline passengers in cases of delays or cancellations.