Wizz Air's UK division is to establish its second base in the country, opting to station an Airbus A320 at the northern Doncaster Sheffield airport.
The airline intends to open another seven routes – adding to 10 it already serves from the airport – and broaden its network to new markets.
Speaking to FlightGlobal as it unveiled the expansion, Wizz Air UK managing director Owain Jones said Doncaster Sheffield has traditionally served as a link to the carrier's Central European bases.
But he says the airline is "spreading its reach" with leisure services to Mediterranean destinations including the resorts of Alicante and Malaga, Larnaca, and Faro.
Wizz Air UK will also underpin its eastern connections with services to Lublin, Kosice, and Suceava when the base opens in October.
The airline, which has 11 aircraft, already operates from a base at London Luton, but Jones says it has "maxed capacity" at the airport and is unable to obtain more slots.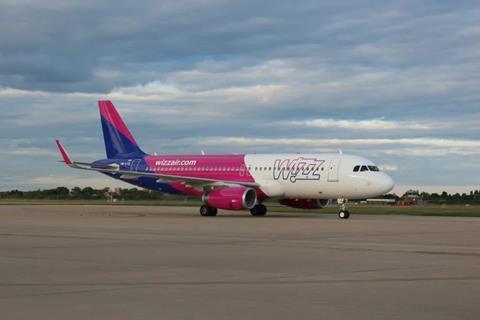 He says the airline has had a "list of opportunities" – some more practical than others in current circumstances – and believes Doncaster Sheffield is "underserved" by the budget airline sector.
Jones says the airline has a chance to "reinforce" its Central European link but also explore the UK outbound leisure sector.
Doncaster Sheffield aviation development director Chris Harcombe tells FlightGlobal that the expansion is a "huge step forward" for the airport, which emerged around the same time as Wizz Air was established and, over the last 14 years, has developed a partnership with the carrier with mutually shared objectives.
"It feels like this is a natural extension of our relationship with Wizz," says Harcombe, emphasising the importance of the new leisure routes to the catchment and the airport's strategy of diversifying its business.
Wizz Air has been aggressive in its response to the air transport downturn, setting up new continental bases and quickly re-opening services despite the havoc wrought by the crisis.
Jones says the airline is benefiting from its strict cost control and strong balance sheet – "cash is king", he states – as well as a "mindset" centred on rapid growth, all of which have helped the carrier to be "first out of the blocks" as restrictions eased.
He says the airline has received "lots of positive feedback" simply from being prepared to operate in the circumstances, and that passengers have adapted accordingly.
Harcombe says Doncaster Sheffield has been able to switch "fairly quickly" to the requirements of air travel in the post-coronavirus era.
"As a smaller regional airport, everything feels much more manageable," he states.
While transforming Doncaster Sheffield's operations has sometimes required "a little bit of lateral thinking", he says: "We've been impressed with the way customers have dealt with this."
He believes the recovery path will still enable the airport to double its passenger numbers, to around 2.5 million or 3 million, in the next five years.
Although cost-sensitive airlines stand to capitalise from the crisis, Jones stresses that Wizz Air UK is not changing its fundamental strategy.
"There's a reason we're in this strong position," he points out.
Wizz Air UK would like to expand at London Gatwick in a "meaningful way", he says, but the cost base for the airline is its priority, and it will resist the temptation to pursue openings that do not fit the business model on costs.
"There's no more certain way to come a cropper than to bet on yield," he says.