Siberian carrier Yakutia will start taking delivery of Irkut MC-21s in 2025, according to the head of the Sakha republic.
Nikolaev Aisen conducted an inspection of the MC-21-300 – the version fitted with Pratt & Whitney PW1400G engines – after a flight-test airframe arrived in Yakutsk for low-temperature tests.
The aircraft will be located in Yakutsk for several weeks, Aisen states through one of his official social media channels.
"Both pilots and passengers are waiting for the appearance of this aircraft," he says, adding that he found the aircraft to be "wider and more comfortable" than competitors.
Yakutia plans to introduce the MC-21 from 2025, says Aisen.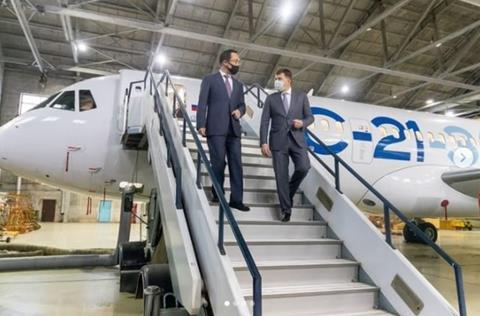 The carrier, which already operates the Russian-built Sukhoi Superjet 100, provisionally signed for five of the -300 variant in 2019.
Yakutia's fleet also includes Boeing 737 and Bombardier turboprops.
The carrier underwent a change of leadership last month, with Andrei Vinokurov was named as the airline's new general director.
Vinokurov has a 12-year association with Yakutia, having previously served in planning and investment posts at the carrier, and later occupying senior commercial roles. He also worked in economic development at Polar Airlines for three years.