Urban air mobility aircraft developer Wisk Aero has filed a court motion to prevent competitor Archer Aviation from using what it calls its "confidential trade secrets" it claims Archer stole, before the case goes to trial.
It is the latest volley in an increasingly acrimonious spat between the two companies which both aim to make millions in the high-stakes electric vertical take-off and landing (eVTOL) market.
Mountain View, California-based Wisk says on 19 May that it is cooperating with the Federal Bureau of Investigation (FBI) and the US Department of Justice (DOJ) on their criminal investigation of Archer. Wisk is asking the court to prevent Archer from deleting evidence, and allow it to inspect Archer's computers and other storage devices for information relating to its claims of intellectual property theft.
However, a source close to the matter says on 20 May that Archer has been informed by the US Attorney's office, through its legal counsel, that neither the company nor its senior management is the target of a criminal investigation.
Neither the FBI nor the DOJ immediately responded to queries about whether an investigation of Archer was underway.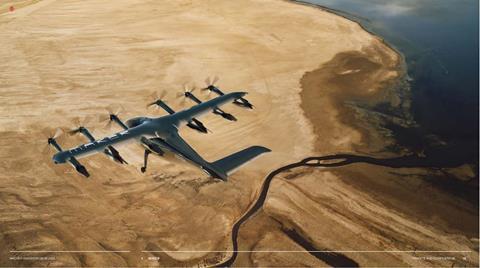 "The theft of our highly confidential files, the virtual copy of Wisk's design from a confidential patent application, and Archer's startlingly short operational history make clear that Archer's program is built on Wisk's intellectual property, as we outlined in our complaint," Wisk says.
Wisk had sued Palo-Alto-based Archer in US federal court on 6 April, alleging that Archer stole trade secrets in a "brazen theft", infringed on patents and copied Wisk's in-development Cora air taxi design.
It claims that there was no way that Archer could have independently developed a comparable aircraft design in such a short period of time without help from a rogue engineer who allegedly stole almost 5,000 files before he left Wisk to join Archer.
At the time, Archer denied the allegations.
It calls Wisk's 19 May motion "baseless … in a baseless lawsuit".
"Archer independently designed its aircraft, before any employees from Wisk joined Archer, and Archer looks forward to demonstrating that in court," Archer says. "Archer is moving forward with its business plans, including the development, certification and production of its proprietary aircraft."
Archer in February 2021 released details of a four-passenger eVTOL aircraft that would have 52nm (96km) range and fly at 130kt (240km/h). The company also published images of its conceptual aircraft: a high-wing design with 12 wing-mounted rotors and a V-tail.
Archer is backed by Marc Lore, co-founder of Jet.com, an e-commerce company that was bought by Walmart for $3.3 billion in 2016.
Chicago-based United Airlines revealed in February that it plans to buy up to 200 of Archer's eVTOL aircraft in a deal worth $1 billion as the carrier invests in technologies to become carbon neutral by 2050.
In the April court documents, Wisk alleged that Archer had hired 10 former Wisk engineers, and that "one of those engineers surreptitiously downloaded thousands of Wisk files near midnight, shortly before he announced his resignation and immediately departed for Archer".
The "stolen files" included aircraft and system design details and test data from a design for which it had applied for a patent in January 2020, Wisk said.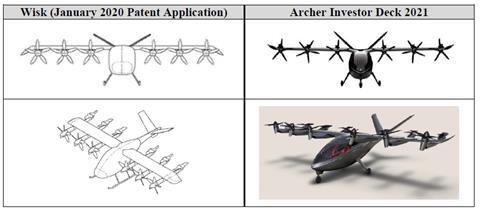 "Wisk has spent over a decade, and hundreds of millions of dollars, working with hundreds of engineers, to develop a unique, cutting-edge electric vertical take-off and landing aircraft that Archer appears to have ripped off wholesale," Wisk adds in its new motion.
"Given the innumerable design choices that can be made for various aspects of an eVTOL aircraft, it is inconceivable that a competitor could have independently developed the exact same configuration as Wisk, let alone done so in a fraction of the time, and with a fraction of the employees as Wisk and other similarly situated competitors."
The suit seeks to force Archer to repay damages and return intellectual property.
Wisk's 12-prop Cora has 22nm range and can reach speeds of about 86kt, the company's website says. Cora is designed to carry two passengers.
Updates on 20 May to add that Archer says neither it nor its senior management is being investigated, and that the FBI and DOJ did not comment on the case.