Abu Dhabi-based Falcon Aviation Services is to acquire 35 Eve electric vertical take-off and landing (eVTOL) aircraft to launch tourist flights in Dubai in 2026.
Falcon says it will work with the Embraer offshoot to "support developing the urban air mobility ecosystem" in the United Arab Emirates.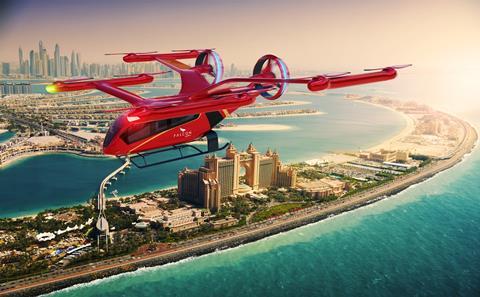 The company has signed a letter of intent – rather than a firm order – for the aircraft, but says the "partnership will introduce the Middle East's first eVTOL touristic flights".
Falcon plans to operate the service from the Atlantis on The Palm, a development of water-facing luxury hotels and upmarket residences.
Captain Ramandeep Oberoi, Falcon's chief operating officer, says the venture "fully aligns with the Smart Dubai vision and will contribute to positioning Dubai as a global leader in sustainable urban air mobility transportation". He adds that the project will "be revolutionary for sustainable urban mobility".
Falcon is a helicopter and business jet operator, with a contract to service Abu Dhabi's offshore oil and gas sector. It offers helicopter sightseeing tours from the Atlantis, carrying 40,000 passengers annually with plans to double this in the next five years.
Trading in Eve shares began on the New York Stock Exchange in May, although the Brazilian airframer retains a 90% stake.
Eve still has not flown a full-scale prototype of its six-seat air taxi – only a sub-scale model – but plans to have the platform certificated by 2025.
Prior to announcing the Falcon commitment, Eve had secured non-binding letters of intent for 1,825 aircraft from 19 customers, including Republic Airways and SkyWest Airlines.