The second example of Textron Aviation's SkyCourier twin-engine turboprop has made its maiden flight.
The flight lasted one hour and 35 minutes, and reached a maximum altitude of 14,200ft, and a maximum speed of 210kt (378km/h), the Wichita, Kansas-headquartered company says on 11 August.
The aircraft, the second of five in the flight testing programme, will be used primarily for systems testing, including propulsion, environmental control, anti-icing and avionics.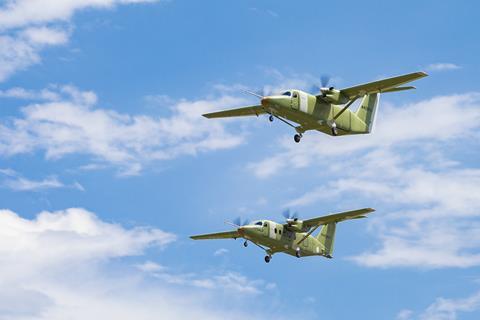 "Since the debut flight for the prototype aircraft, the team has rapidly moved through testing and has accomplished its goals of initial envelope expansion and handling, including stalls," says Chris Hearne, senior vice-president of engineering and programs. "The Cessna SkyCourier program is heading through the second half of 2020 with a great deal of momentum."
The first SkyCourier, which first flew on 17 May from the airframer's headquarters in Wichita, Kansas, has already completed 38 flights and logged more than 76 flight hours, the company says.
Launched in 2017, the high-wing SkyCourier will be offered in various configurations including freighter, passenger or combi - all based on a common platform with a 2,720kg (6,000lb) payload. It is powered by Pratt & Whitney Canada PT6A-65SC engines and has a maximum range of 1,700km.