Textron Aviation is adding an auto-throttle system as standard equipment on its Cessna Citation M2 Gen2 light jet, a move the company says will improve safety and efficiency.
The Wichita-based aircraft manufacturer disclosed the product update on 13 October, saying it intends to begin delivering M2 Gen2s with auto throttles in mid-2025.
Textron Aviation's announcement came one day after competitor Embraer revealed it added auto-throttles as optional equipment on Phenom 300E light jets.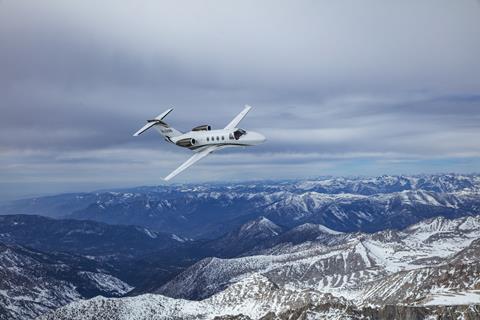 "This provides pilots the added layer of automation, precision and efficiency," says Textron Aviation senior vice-president of global sales and flight operations Lannie O'Bannion.
The company's decision to equip M2 Gen2s with the system responds to demand from customers, he adds, calling the change "a great example of our continuous investment in our product line-up."
Textron Aviation in 2021 updated the M2 to the M2 Gen2 variant, giving the type a refreshed cabin. Powered by Williams International FJ44 engines, the seven-passenger jet has range of 1,550nm (3,723km) and a maximum cruise speed of 404kt (748km/h). M2 Gen2s can be flown by only one pilot in the cockpit.
The addition of the auto-throttle function "further enhances the Citation M2 Gen2's capabilities by optimising engine power, simplifying flight management and increasing overall operating efficiency," says Textron Aviation.
"With this advanced technology, pilots can expect to experience smoother and more predictable flight profiles, providing them with even greater control and precision while flying."
The technology will be integrated with the M2 Gen2's Garmin G3000 avionics package. "It automatically manages engine thrust, optimising airspeed and fuel efficiency, and adjusts engine power based on factors like altitude, airspeed and aircraft weight," Textron Aviation adds.
On 12 October, Embraer revealed it is now offering its 10-passenger Phenom 300E with an auto-throttle system, but as an option. That jet also has Garmin G3000 avionics.
Embraer expects to begin delivering Phenom 300Es with auto-throttles in the third quarter of 2024 and to offer the system as a retrofit for used jets in the fourth quarter of next year.