Many attending the National Business Aviation Association (NBAA) convention from 17-19 October will arrive in the US casino capital in a winning mood, thanks to a post-pandemic sector that remains buoyant. Others in Las Vegas may be a touch nervous as inflation continues to stalk the global economy. The outlook largely depends on which direction you look and who you speak to.
On the plus side, deliveries and backlogs remain strong, and continue to rise year-on-year, along with the overall value of aircraft shipments. According to the General Aviation Manufacturers Association (GAMA), deliveries of business jets in the first half of the year rose to 296 units, from 289 in the same period in 2022. Overall turbine aircraft shipments – jets and turboprops – increased by 52 to 586.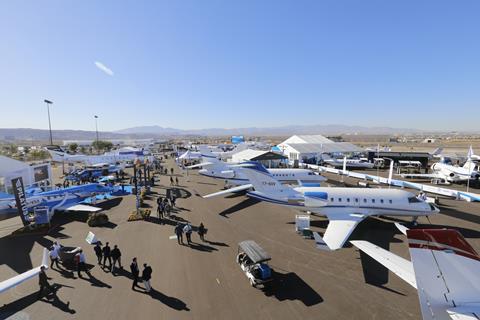 Used aircraft values – another benchmark of industry health – are also encouraging. In July, the International Aircraft Dealers Association (IADA) reported higher "resale expectations" for the rest of 2023. It followed a first half in which its members closed 542 deals, 56 fewer than in the same six months of 2022, although IADA described the latter as a "truly exceptional period" for the resale community.
However, momentum in business aviation activity has been slowing, after a surge in late 2021 and into 2022 – helped by pent-up demand and first-time users who were keen to avoid Covid-19 exposure and a dysfunctional commercial air transport system. However, according to data specialist WingX, 2023's decrease in traffic so far is modest, and usage remains substantially up on 2019.
"Trends in global business aviation activity [held] up pretty well through the summer compared to summer last year," says WingX. In terms of market segments, fractional ownership operators have seen the biggest increase in demand since the pandemic, and activity at private flight departments is "still well up in the USA".
Industry is adjusting after "Covid highs", suggests analyst Brian Foley of Brifo Associates. "Most segments are doing better than 2019, but things are not going gangbusters like in 2021. Instead of a falling off, it's a steady decrease, which is not a bad thing after what was becoming an overheated market."
MARKET OUTLOOK
It is a view seconded by Scott Cutshall, senior vice-president for development and sustainability at management and charter firm Clay Lacy Aviation. "Last year was one of our best from a demand standpoint, but inflation and other headwinds in 2023 are putting downward pressure on people's flying activity," he says.
"We are returning to more normal levels, similar to where they were pre-pandemic," he adds. "Aircraft ownership is still very high and numbers of aircraft for sale are below average. But there has been a downturn on the charter side, which is an easy turn-on, turn-off in the short term. So far though, we are hopeful there won't be a recession."
One red flag for the industry is its exposure to two large and highly geared charter companies that have expanded massively in recent years. In August, Delta Air Lines and a group of financial firms agreed to buy 95% of Wheels Up's stock in return for $400 million in fresh funding. The Atlanta-based carrier was already a substantial investor in the troubled firm, one of the USA's largest charter operators.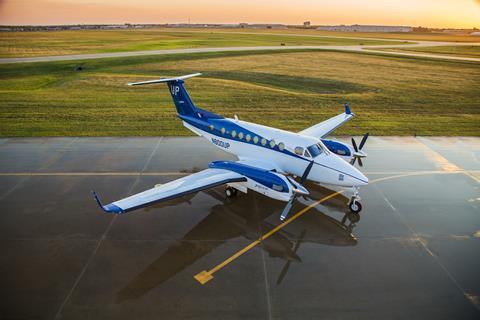 At the same time, Wheels Up said it was divesting its aircraft management arm to fractional operator Airshare. It came after Wheels Up – which floated in 2021 amid a period of fast expansion – disclosed losses of $262 million in the first half of the year and admitted there was "substantial doubt" about its ability to continue operations. Founding chief executive Kenny Dichter stepped down in May.
Meanwhile, Thomas Flohr, founder and chief executive of Vista, was forced in May to defend the firm's financial position after a report in the Financial Times warned about the privately-owned operator's high levels of debt following a growth spurt that saw its fleet grow to 360 jets and the acquisition of two large charter rivals.
PROFITABLE OPERATION
Flohr, who began his VistaJet charter operation almost 20 years ago, stresses that the Swiss-based company remains profitable on an EBITA basis, with a $500 million five-year bond offer in May two times oversubscribed. Vista said credit ratings agencies including S&P, Fitch, and Moody's had all "affirmed or upgraded their positions" following the group's financial audit released in April.
According to Foley, any "hiccup" involving one or more of the industry's biggest fleet operators "would have a pretty major impact on values and in terms of slowing down new sales. It would have an impact on lenders and vendors across the sector. There are certainly some ticking timebombs out there."
A number of operators, he says, took on "a ton of debt in a low interest rate environment" to fund fleet expansion, and are now facing higher costs to service those borrowings. At the same time, many investors who rushed into business aviation have started "pulling back" from the sector as demand for charter slows.
One segment that appears to be weathering the storm is fractional ownership, believes Foley. While the market is dominated by two large privately-owned players, NetJets and Flexjet, he wonders if an environmental backlash against private flying is contributing. "No company wants to be publicly shamed, and one way to be a bit more discreet is through fractional ownership," he says.
Flexjet earlier this year abandoned plans, announced in late 2022, to list itself on the stock market through a merger with a so-called special purpose acquisition company, or SPAC. Chairman Kenn Ricci declared: "Because we have been dedicated stewards of our capital, there will be no impact on the growth initiatives we have launched during the past several years, which remain full steam ahead."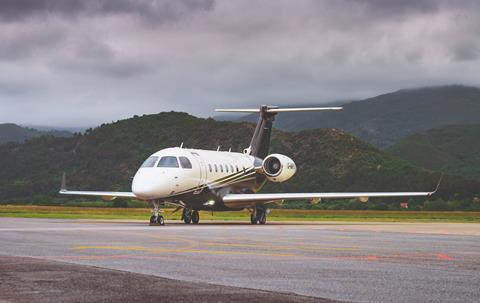 One of these initiatives was the shared-ownership specialist's acquisition in August of Canadian MRO and completions house Flying Colours, of which it had long been a customer. That followed its purchase last year of Cleveland, Ohio-based MRO Constant Aviation. Both moves will allow Flexjet to offer customers in-house MRO services and better control the availability of its aircraft.
One fractional and charter operator that has gone down the SPAC route to a New York Stock Exchange listing is the market number three, FlyExclusive. The Kinston, North Carolina-based company, which has a roughly 100-strong fleet of mostly Cessna Citation aircraft, last year announced a deal with "blank check company" EG Acquisition.
Supply chain snags and shortages of skilled labour have beset almost all aerospace companies since the recovery began in late 2021, with sharp rises in the prices of some raw materials in the wake of the Ukraine crisis. However, because of lower volumes, business aviation manufacturers have been less affected than their commercial counterparts, and there is evidence the situation is improving.
PRODUCT DEVELOPMENT
Based on their recent business updates and commitment to new product development, all the major OEMs are bullish, and competition across several segments – including the lucrative large-cabin, long-range – is intense. All three airframers in this category are working on new flagship programmes: the Bombardier Global 8000, the Dassault Aviation Falcon 10X, and the Gulfstream G800.
In the Canadian company's second quarter results presentation in August, chief executive Eric Martel said he was "totally comfortable" about hitting a 2023 delivery target of 138 aircraft – 18 up on 2022 – helped by a record aftermarket performance that was largely a result of several years of investment in an enhanced in-house MRO network.
Bombardier has been through a torrid time in recent years, with debts run up from the CSeries airliner development forcing it to sell that programme to Airbus (as the A220) and divest or close every activity except its Challenger and Global lines. Its aerostructures, rail, regional aircraft, and Learjet operations have all been offloaded or shuttered since 2018.
However, it has continued to prosper in its two business aviation niches, with its latest top-end offering, announced in May 2022, the GE Aerospace Passport-powered Global 8000, a reworked version of an earlier planned stablemate to its Global 7500. The Global 8000 has a range of 8,000nm (14,800km) and will eventually replace its sibling.
Bombardier's newest type, which can carry 19 passengers, is due to enter service in 2025. Unlike the original Global 8000 – which was to have sacrificed cabin size in return for a small range advantage over the Global 7500 – the latest version is the same length as its predecessor, at 33.8m (110ft). Global 7500 owners will be able to convert their jets to the Global 8000 specification under a service bulletin.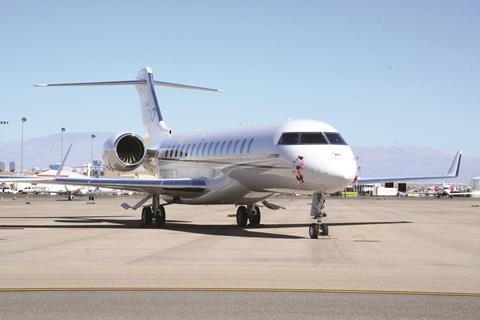 Bombardier's next move is likely to be a revamp of the 4,000nm-range, large-cabin Challenger 650, which is a design dating from the 1970s and that was last updated in 2015. However, relaunching it as the Challenger 6500 – following the renaming convention when it replaced the smaller Challenger 350 with the Challenger 3500 – could create confusion with the Global 6500.
Dassault was the first of the so-called big three to announce a range-busting new aircraft with the 7,500nm Rolls-Royce Pearl 10X-powered Falcon 10X in May 2021. While the type will have around 500nm less range than the Global 8000 or the Gulfstream G800, Dassault is promising the category's roomiest cabin, at 2.77m wide and 2.03m high.
Like the Global 8000, the 10X is due to enter service in 2025, although in May chief executive Eric Trappier hinted that supply chain problems might push that target "a little bit later". The French company has not yet announced a schedule for its flight test campaign, but R-R has said it expects to fly the Pearl 10X for the first time during 2023, on its Boeing 747 testbed.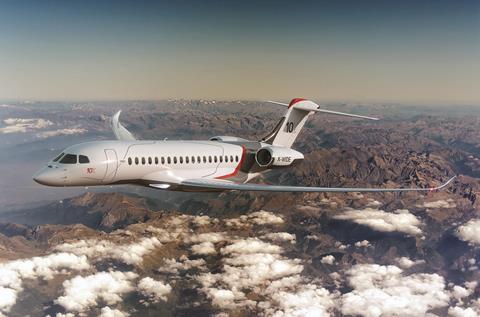 Meanwhile, Dassault in August secured certification for the Pratt & Whitney Canada (P&WC) PW812D-powered Falcon 6X, roughly two-and-a-half years after first flight. The company launched the 5,500nm-range jet in 2017 as a stretched rework of the Falcon 5X, which, despite making its debut flight that year, was cancelled because of performance issues with its Safran Silvercrest engines.
EXCLUSIVE CLUB
The third member of the ultra-large-cabin/ultra-long-range club, Gulfstream – which took the somewhat unusual decision to not attend this year's NBAA convention – has taken longer than it hoped to achieve certification for its next type to go into service, the 7,750nm-range, Pearl-engined G700.
In July, the Savannah-based manufacturer said it hoped to get the green light from the US regulator by the end of the year. The G700 is a 3m stretch of the G650, which has older generation R-R engines, and shares fly-by-wire cockpit technology with the smaller G500/G600 pairing, including BAE Systems-developed active control sidesticks.
The G700 is one of a trio of aircraft Gulfstream has in development, with its 8,000nm-range G800 – which has a slightly shorter cabin than the G700 but is also powered by a version of the Pearl – making its first flight in June 2022. A second test example joined the campaign in July this year, and the airframer is targeting a 2024 certification for its longest-range variant.
Along with the G800, Gulfstream – maintaining its tradition of developing programmes under a veil of secrecy – also in October 2021 launched the 4,200nm-range, P&WC PW812GA-powered G400. The type fills a gap in its portfolio where there is less competition than in ultra-long range. Gulfstream has not flown the aircraft but aims to deliver the first example in 2025.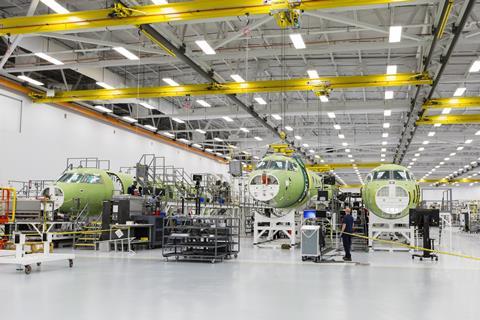 According to Foley, delays in the certification of the G700 – a consequence of a more scrupulous approach by the US Federal Aviation Administration in the wake of the Boeing 737 Max failures – has left the manufacturer a "bit behind" Bombardier, delaying the inevitable "end of the Global 7500's reign" in the ultra-long-range segment.
He expects Dassault to close the gap with its two larger rivals now that the 6X is certificated and the 10X is on the way. "As a family company, Dassault move at their own speed, they don't take huge risks and don't overbuild. They had a bump in the road with the 5X, and lost market share with that delay, but they will start recovering," he says.
Elsewhere in the market, Textron Aviation's launch at the EBACE convention in May of the Cessna Citation Ascend, and Honda Aircraft's 2600 light jet have been the two other big product announcements of 2023. The Ascend is an updated version of the P&WC PW545D-powered, 12-seat Excel midsize jet and is scheduled to enter service in 2025.
Textron's other new offering, the single-turboprop Denali, is still awaiting certification with delays put down to technical issues with its Catalyst engine, with which GE Aerospace aims to take on the ubiquitous and evergreen P&WC PT6. The 1,600nm-range Denali – a competitor to the Pilatus PC-12 – flew for the first time in November 2021, but deliveries are not expected until next year.
Embraer, the final member of the big five in business aviation, has no new products in the works, but remains in a comfortable position in its key segments. Its Phenom 300 has been the top-selling light jet for more than a decade, while its smaller sibling, the Phenom 100EV, and the midsize and super-midsize Praetor 500 and Praetor 600 continue to sell well.
SUCCESSION PLANNING
Honda Aircraft, which broke into the market with the HA-420 HondaJet light jet in the 2010s, is targeting a 2028 certification date for its 10-seat 2600 successor. One of the most interesting features of the new aircraft is that it will be powered by Williams International turbofans, rather than engines from its GE Honda venture, which supplies the HF120s for the HondaJet.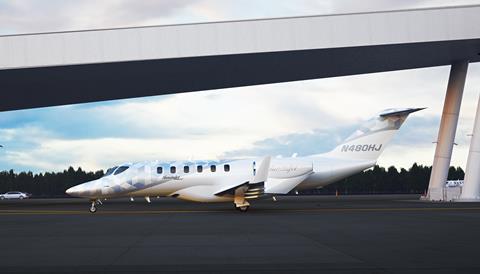 In the airliner-derived business jet segment, the A220-derived ACJ TwoTwenty, which launched in October 2020, is the only significant new type –bringing Airbus into genuine competition with the big three large-cabin manufacturers for the first time. In April 2023, Dubai luxury hotel group Five took delivery of the first example from Comlux, which completed its interior.
Rival Boeing celebrates 25 years of the Boeing Business Jet this year – the first BBJ, based on the 737-700, flew in September 1998. Boeing has traditionally been the leader in this market, with its 747-400 in particular flying heads of state (including US presidents) over the years. However, neither it nor Airbus delivered any examples in the first half, according to GAMA data.
No leaving Las Vegas for NBAA… but Gulfstream is a no-show
Arguably business aviation's biggest name will be a notable absentee from this year's event. Gulfstream – which traditionally has had one of the largest static displays of aircraft at the convention – says that instead of coming to Las Vegas it is focusing on creating "private events and experiences that have exceeded our customers' expectations while delivering on our business objectives".
Gulfstream's attitude seems to be that it has strong relationships with existing and potential buyers and, with no new aircraft to announce, does not need a domestic show to promote its brand. However, while the manufacturer will no doubt be missed, it will mean a greater share of the spotlight for its main rivals – Bombardier and Dassault – which are exhibiting, along with the other main business aircraft OEMs: Airbus, Boeing, Daher, Embraer, Honda Aircraft, Pilatus, and Textron Aviation.
The NBAA convention has its roots in a 1946 meeting in New York of corporations that flew their own aircraft. They wanted to come up with a way to lobby and educate politicians, as well as hold a business and social gathering once a year. By the 1960s, the event was attracting a group of dealers displaying aircraft for sale, and the exhibition as we know it today began to take shape. Today, it is one of the USA's largest, attracting more than 20,000 attendees and some 800 exhibitors.
For more than a decade it has alternated between Las Vegas and Orlando – Atlanta and New Orleans have also hosted the event this century. However, NBAA has decided to make Las Vegas its regular home for the foreseeable future, given the city's range of hotels and popularity with business visitors. The proximity of the static display at Henderson Executive airport to the convention centre – in Orlando the two venues are a 40min bus ride apart – is another plus.
This year's event has several new features. In addition to a viewing platform at the static display, NBAA promises the largest-yet "emerging technology" exhibit, featuring electric and hybrid-electric-powered air taxis and other aircraft. There will also be a careers fair on 18 and 19 October with more than a dozen companies hosting recruiting stations. The shortage of professionals in an ageing industry is "one of the biggest challenges confronting business aviation", says NBAA.