Service entry of the Citation Longitude business jet in October 2019 contributed to a double-digit year-on-year hike in deliveries and revenues at Textron Aviation in the fourth quarter, but output for the super-midsize twin and its legacy stablemates will be reduced over the coming months as the airframer rebuilds a composite parts facility in Wichita that was severely damaged by fire in late December.
On a 29 January full-year earnings call, Scott Donnelly, chief executive of parent company Textron, said the firm will "probably be 10 to 15 aircraft light in Q1 and Q2", due to the blaze.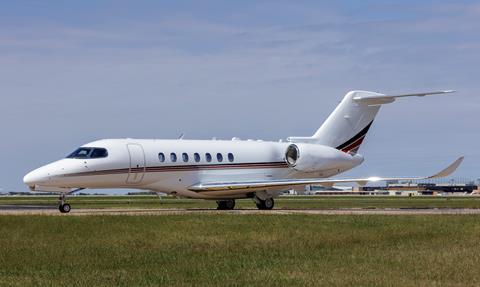 "Plant 3 incurred significant damage, affecting our composite manufacturing operations, and we are working to recover the entire facility," he says.
"We do expect some disruptions to our production that will impact our ability to complete and deliver aircraft in the first half of 2020, but we fully expect to recover by year-end with no impact to our annual plan."
Donnelly says development of the SkyCourier twin-engined turboprop, also located in Plant 3, "has been unaffected by the accident, and that programme is continuing on schedule". First flight is due later this year.
Textron's flagship Longitude has been "very well received in the market", Donnelly notes, with 13 examples shipped in the last three months of 2019. The output included the first aircraft for launch customer NetJets, from an order of up to 175 of the type.
"Clearly a brand new product like the Longitude will drive some demand activity, which is great," says Donnelly. However, the market for legacy Citations, including the midsize Sovereign+ and light-cabin CJ-family, is "sort of flat to down", he adds.
Donnelly attributes this softness to geopolitical and economic uncertainty amongst small to medium-size businesses, which make up the bulk of Citation customers. "They've been holding back on capital expenditure a little bit," says Donnelly. "We're in the middle of a very political cycle right now," he adds, pointing to Brexit and the forthcoming US presidential election. "As we work our way through the year and the politics… [the situation] will become clearer," Donnelly says.
He is optimistic the investment pause will be brief, and business will start spending again. "This is what drove a lot of the growth [during the economic boom] in late 2017, and the early part of 2018. So we're hopeful that will happen."
Textron launched a restructuring plan late last year, partly in response to the soft business aircraft market, which included a wave of job cuts in Wichita.
"These actions were necessary to align our cost structure within the current operating environment as we ramp up production of the Longitude, anticipate lower legacy aircraft demand and reduced requirements for ongoing development programmes," says Donnelly.
The SkyCourier and Denali single-engined turboprop are the only products in the works, since Textron halted development last year of the Hemisphere. The large-cabin business jet, which was to be Textron's flagship aircraft, was suspended due to a failure by Safran to fix problems with the aircraft's Silvercrest turbofans.
Donnelly describes the Denali, which is scheduled to enter service in 2021, as a "great growth driver".
"We've not been in the high-performance [turboprop] single market. That's our rationale for Denali. It's a great market, which I think will get very good participation," he says.
For 2019, Textron Aviation delivered 206 Citation-series jets – up from 188 in 2018. That included 71 shipments in the fourth quarter, eight units - or 12% - higher than the same period a year earlier.
Fourth-quarter revenues climbed by 11% over the same period to $1.73 billion, boosting annual revenues by $220 million to $5.19 billion.