Daniela Saucedo, 20, is beginning her career in aviation as a trainee with CAE Phoenix, where she is a flying ambassador for the national carrier's cadet programme after receiving the CAE Women in Flight scholarship. She explains why she wants to be a pilot, and aspires to fly the Boeing 787 for Aeromexico
What is your background and what attracted you to this career?
I grew up in Mexico City, and as a little girl I was in contact with the aviation world because both my parents were flight attendants. I knew about the lifestyle of these hardworking people, who have big challenges and help this incredible machine fly through the skies. But it was not until I started training that I began to fully understand what it means to be a pilot – to have the knowledge and abilities to control an aircraft, no matter what its size. Pilots dedicate themselves to continuous study, which takes you to a new reality, filled with huge responsibilities, new experiences and a much wider understanding of what happens inside and outside the cabin.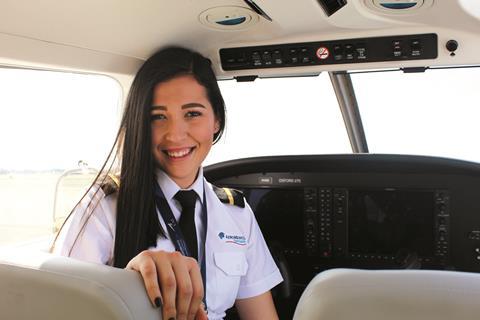 When did you start your training and how is it going?
I began with the theory phase in August 2018, and for seven months learned the necessary knowledge that we put into practice when flying. I made my first flight in April in 2019, and at that precise moment realised I was made for it. Nothing makes me happier than having control of this beautiful piece of machinery and hearing the air flow past the wings. I felt that it was the first of many times that I was going to see the world from a different perspective. By mid-2019 I had flown 54 hours and it has been an amazing experience. I can't imagine doing anything else. I know none of it could have been possible without my family, my instructors in Mexico and now all the amazing people who work at CAE. I hope to finish my training by early 2020 and receive my CPL [commercial pilot's licence], after which I aim to get my pilot life started as soon as possible.
What are your ambitions and what aircraft would you like to fly?
One of the reasons I chose Aeromexico and CAE was because I want to be a pilot in my beautiful country, and to fly as many of the Aeromexico fleet as I can – including the Boeing 787-8.
Fewer than 5% of airline pilots worldwide are women. Why do you think this might be the case, and do you think the situation is changing? What does the industry need to do to attract more young women?
This percentage does need to grow. It is a profession once reserved for men, but now women are making a difference. I believe that women who have the passion and desire to fly will change this percentage. To be part of a small group of women pilots inspires me to work harder than ever to inspire other women to become pilots as well. Gender is not a limit – the limit is the sky.
This content was paid for by CAE and created in association with FlightGlobal