Babcock Australia and Israel Aerospace Industries (IAI) have entered a pact related to the promotion of the Israeli's company's unmanned air vehicles (UAVs) in Australia.
The pair have signed a memorandum of understanding that sets the stage for demonstrations in Australia of two IAI UAV platforms: the WanderB-VTOL and ThunderB-BVTOL, says Babcock.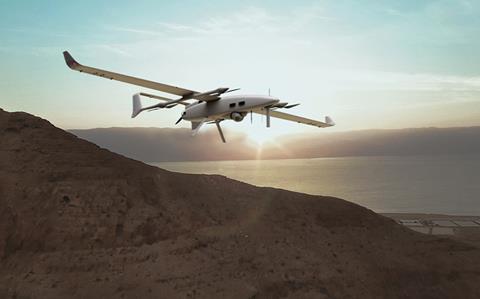 The companies will demonstrate the systems to parapublic agencies involved in law enforcement, emergency services, and national security.
"This partnership with IAI is about bringing together solutions that are the best fit for our customers, integrating our rotary capabilities with RPAs [remotely piloted aircraft] to deliver the most effective and cost-efficient solutions," says Peter Newington, Babcock's director of Aviation and Critical Services.
"The addition of autonomous systems reduces operator workloads and augments existing capabilities with flexible, rapidly deployable, long endurance assets for law enforcement, maritime surveillance, disaster management or environmental situational awareness."
Babcok already holds a Remotely Piloted Aircraft Operator Certificate in Australia, allowing it to operate systems such as the WanderB-VTOL and ThunderB-VTOL.
According to an IAI brochure, the WanderB-VTOL has an endurance of over 2.5h, and a communications range of 27nm (50km). It takes off vertically using four rotors, and then converts to level flight using wings and a pusher propeller. The maximum take-off weight (MTOW) is 14kg (30lb).
The larger ThunderB-VTOL has an endurance of 12h, a communications range of 81nm, and a MTOW of 35kg.