Avio Aero has detailed its production plan for delivering Catalyst engines to power a future fleet of Eurodrone unmanned air vehicles (UAVs) to be operated by the militaries of France, Germany, Italy and Spain.
The GE Aviation subsidiary was on 25 March selected by Airbus Defence & Space to equip the medium-altitude, long-endurance UAV, which will certificated for operation in non-segregated, civilian airspace.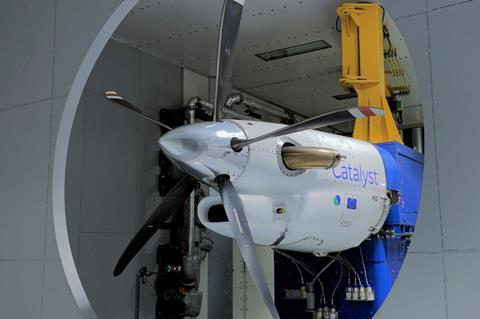 "We've invested in people, resources and infrastructure to begin executing for the programme immediately, and our teams across Europe are ready to get to work," says Riccardo Procacci, chief executive and general manager of Avio Aero and GE Aviation Turboprop.
Avio Aero says work on the project will be performed at its sites in Italy and Poland, plus by GE Aviation Turboprop in the Czech Republic and at GE facilities in Germany and Poland. The propulsion system will also use propellers supplied by Germany's MT-Propeller.
"This is a huge milestone for the European aviation industry, enabling the growth of European capabilities and sovereignty, and of course all our Catalyst team," Procacci says.
"The programme includes 120 engines and a multi-year service and maintenance agreement," Avio Aero says, referring to an overall requirement to supply 20 Eurodrone systems, each including three of the twin-turboprop aircraft.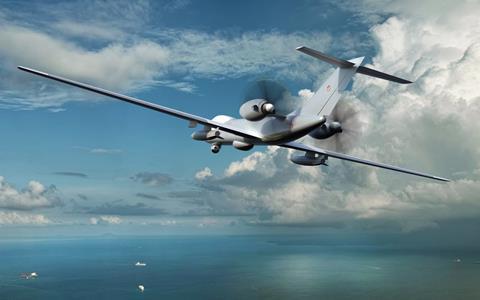 "The Catalyst engine, currently performing flight-testing campaigns, is the first turboprop in aviation history made with 3D-printed components," Avio Aero notes. It adds that the European design also is "100%-free" from US International Traffic in Arms Regulation restrictions.
Avio Aero claims the engine "delivers up to 20% lower fuel consumption, [and] 10% more cruising power and payload, enabling three more hours on a typical UAV mission versus turboprop engines today".
Beechcraft's single-engined Denali also uses the Catalyst, with the up to nine-passenger platform to use the engine with a power rating of 1,300shp (969kW).
To enter operational use from late this decade, the Eurodrone platform has a roughly 30m (98ft) wingspan, and will be capable of carrying a maximum payload of 2.3t. Operating endurance will be between 18-40h, depending on the equipment carried and flight profile used for specific missions.
Airbus Defence & Space expects to conduct the first flight of a prototype Eurodrone by mid-2027, with a development and production contract for the programme having been signed on behalf of the partner nations in February 2022.