US lawmakers want to increase the US military's ability to replenish diminished stocks of precision-guided munitions – a move that stands to greatly benefit major US weapons providers.
Citing a need for "critical munitions" and materiel support to foreign allies, the 2023 National Defense Authorization Act (NDAA) drafted by Congress would empower the Pentagon to acquire thousands of precision-guided weapons in the coming years.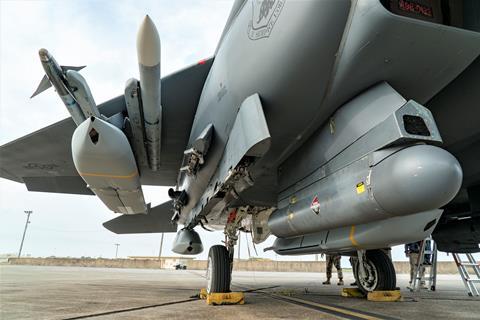 Lawmakers view increased weapon production as critical, citing the need to increase the USA's own stockpile, to directly support Ukraine, and to restock "foreign allies and partners that have provided support to the government of Ukraine", according to the NDAA legislation, which passed the Senate on 15 December.
The House of Representatives already approved the bill. It now moves to the desk of President Joe Biden for signing into law.
The bill seeks to authorise the Pentagon to purchase 12,000 Lockheed Martin Joint Air-to-Ground Missiles, 2,600 Boeing Harpoon anti-ship missiles, 3,850 missile segments for Raytheon's Patriot air defence system, 5,100 Raytheon AIM-120 Advanced Medium-Range Air-to-Air Missiles and 5,100 Raytheon AIM-9X Sidewinder air-to-air missiles.
It would also set aside funds for major purchases of some of the USA's most advanced weapon systems, including 950 stealthy Lockheed Long-Range Anti-Ship Missiles and 3,100 low-observable Joint Air-to-Surface Standoff Missiles, also produced by Lockheed.
Notably, the NDAA bill authorises the Pentagon to enter into multi-year procurement contracts for munitions acquisitions. That departs from the typical one-year acquisition deals – a sign Washington policymakers foresee an enduring need for increased weapons production.
Separately, the bill requires follow-on reports in 2023 identifying shortfalls of critical input materials needed to produce munitions and other military supplies.
The bill, which authorises the spending from the US government's fiscal year 2023 budget, does not disclose dollar amounts.
The Biden administration has supplied the armed forces of Ukraine with some $19 billion in military aid since the country was invaded by Russia in February. Much of that has come in the form of precision munitions, including some of the USA's advanced air-launched systems.
Of particular note has been the AGM-88 High-speed Anti-Radiation Missile (HARM) produced by Raytheon, which Ukraine has used to destroy Russian air defence systems. American military officials and industry experts worked with Ukraine to, for the first time, integrate HARMs onto Soviet-origin fighter jets.
The high rate of munition consumption observed in the conflict has raised concern that the USA and NATO lack sufficiently large stockpiles of precision weapons to sustain a protracted high-intensity conflict.
At least some US defence companies have been making the case for increased weapons production.
At the Farnborough air show in July, Raytheon Missiles & Defense chief executive Wes Kremer said the situation in Ukraine should serve as a wake up call, to Europe in particular.
"The most significant lesson of the [Russian] invasion is that you must have a credible deterrent capability, but also sufficient magazine depth," Kremer said.
He noted previous military engagements in Libya and Syria have already revealed European countries have "thin inventories" of precision munitions, such as air-to-surface missiles, and often rely on Washington for resupplies.
Story updated 15 December to reflect passage of the 2023 National Defense Authoirization Act.