The Czech Republic has received its first two Bell AH-1Z Viper attack helicopters, with the assets having been delivered on 26 July aboard a US Air Force Boeing C-17 strategic transport.
"Delivery of the first American helicopters is a significant moment for the modernisation of the military," says defence minister Jana Cernochova. "We are getting rid of our dependence on Russian technology and switching to a modern Western platform supplied by an important ally."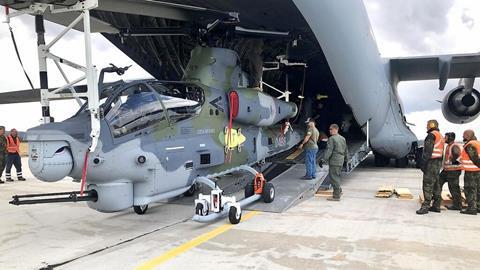 Images from the delivery event show the new helicopters as having the service registrations 0486 and 0487.
Prague intends to end operations with its current Mil Mi-24V/35 fleet in mid-September, with their departure to coincide with the NATO Days event in Ostrava.
The Czech defence ministry hails the AH-1Z's "firepower, self-protection system, covert communication and ability to survive on the battlefield", and describes the US type as "incomparably simpler in terms of maintenance" than its Soviet-era predecessor.
Flight operations using the first two AH-1Zs are scheduled to begin within around two weeks, with an initial focus on completing certification activities. A formal acceptance ceremony will take place on 17 August.
Further deliveries to be completed by mid-September will add a second pair of AH-1Zs and the NATO member's first two UH-1Y utility helicopters, the defence ministry says.
Prague initially ordered four AH-1Zs and eight UH-1Y utility helicopters, but Washington earlier this year announced its donation of a further eight modernised airframes. This will result in the Czech air force eventually fielding 10 of each model.
Meanwhile, a US mobile training team will begin instructing personnel on the H-1-series aircraft at Namest air base in the Czech Republic on 1 September, with the in-country provision to continue for a two-year period. A first of two LOM Praha-supplied simulators for the rotorcraft has already been installed at the base.
A lead batch of Czech pilots and technicians have previously completed a seven-month training programme at the US Marine Corps' Camp Pendleton in California.

Craig Hoyle joined Flight International in 2003, and has edited the now monthly title since 2015. He has reported on the UK, European and international military aviation sector for more than 25 years, and produces our annual World Air Forces directory.
View full Profile