A first Dassault Aviation Rafale B for the Croatian air force has been photographed in flight at Saint-Dizier air base in France.
Zagreb in 2021 signed a contract to acquire a dozen Rafales sourced from French air force stocks to replace its Soviet-era Mikoyan MiG-21s. It will receive 10 single-seat Cs and two B-model examples.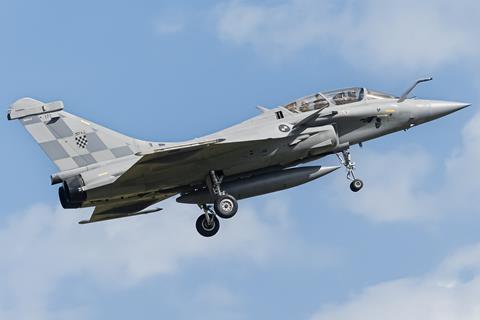 Pictured at Saint-Dizier on 14 September, two-seat aircraft 701 sports Croatian markings, including a two-tone-grey tail.
Croatia's secondhand aircraft are around 14 years old, but have a remaining operational airframe life of roughly 3,800 flight hours each.
A first batch of 12 Croatian air force pilots started their training for operating the type at Saint-Dizier earlier this year. In total, France will provide instruction for around 80 Croatian personnel over a period of approximately 18 months.
First aircraft deliveries are expected late this year, with eight Rafales scheduled to arrive in Croatia during 2024 and the remainder to follow in early 2025.
Croatia will follow the French air force and navy, plus fellow international customers Egypt, Greece, India and Qatar in fielding the French-built fighter. Indonesia and the United Arab Emirates also have signed contracts to acquire the type.