Kuwait has taken delivery of its first two of an eventual 28 Eurofighter Typhoons, with the jets arriving on 14 December.
Final assembly of the Kuwaiti aircraft is performed by Eurofighter consortium member Leonardo at its Caselle site near Turin.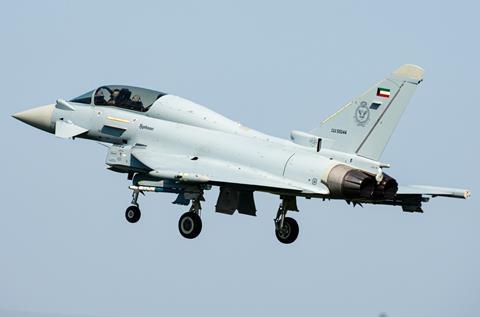 The pair – both two-seat examples – were ferried from Caselle to their new home with the assistance of the Italian air force. The service provided two Boeing KC-767 tankers from its 14 Sqn at Pratica di Mare base, alongside a pair of 4 Sqn Eurofighters as escorts.
"The Eurofighter Typhoons we have developed and produced for the Kuwait air force are the most advanced in the whole history of the European programme," says Alessandro Profumo, chief executive of Leonardo.
Kuwait's Typhoons are fitted with a Leonardo-built active electronically scanned array radar.