Jean-Brice Dumont, Airbus Defence & Space's head of military aircraft, says discussions continue with its European customers for the A400M tactical transport regarding annual production plans.
"We are discussing a steady production plan, efficiency in support, and cost of operation and availability of the A400M," he said at the Paris air show on 20 June. "These are challenges at the moment with the nations and with [procurement body] OCCAR."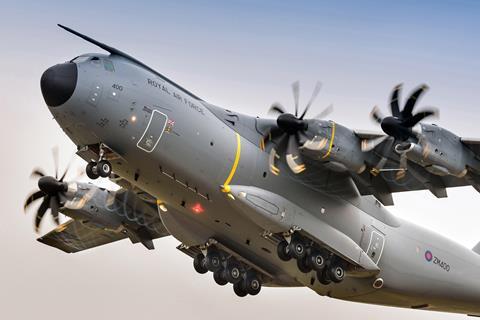 Airbus currently delivers eight A400Ms per year, and he notes: "It is a common interest to preserve that number. Stability on that front can only make us stronger to face the export market," he adds. "There are other prospects – we have quite a few.
"We need to have a combination of home nation and export deliveries, and this is the mix that we are cooking at the moment, with OCCAR and the nations, to be sustainable."
However, he notes: "We are secure for the three or four years [of output] to come", due to the programme's complex supply chain."
Airbus in late May delivered the UK Royal Air Force's 22nd and currently final A400M, although London is still interested in potentially boosting the size of its Atlas fleet via a follow-on acquisition.
Belgium also will take its final example of the A400M this year, while a first export example for Kazakhstan recently entered production, with its delivery scheduled for during 2024.

Craig Hoyle joined Flight International in 2003, and has edited the now monthly title since 2015. He has reported on the UK, European and international military aviation sector for more than 25 years, and produces our annual World Air Forces directory.
View full Profile